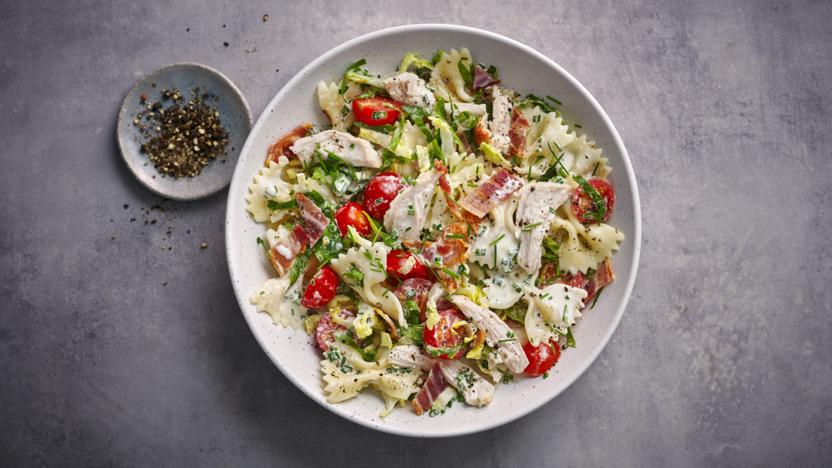 This bacon and chicken pasta salad is like a club sandwich in a bowl. It will keep overnight in the fridge, so makes a perfect portable lunch that can be made the night before.

Each serving provides 527 kcal, 40g protein, 50.5g carbohydrates (of which 7.5g sugars), 17g fat (of which 4.5g saturates), 7g fibre and 2.6g salt.
Ingredients
For the chicken pasta salad
For the buttermilk ranch dressing
Method
To make the pasta salad, cook the pasta in a saucepan of salted, boiling water for 10–12 minutes, or as per packet instructions. Drain the pasta and rinse under the cold tap to cool and wash off any excess starch. Drain well again.

Preheat the grill to medium–high and cook the bacon until crispy. Set aside to cool, patting off as much excess fat as possible with a piece of kitchen paper. Chop into small pieces.

To make the dressing, whisk the buttermilk, mayonnaise and yoghurt in a small bowl. Add the garlic clove, sea salt and chives and stir well.

Return the pasta to the saucepan and stir in the dressing, bacon, lettuce, tomatoes and chicken. Season with salt and pepper and serve.