Mediterranean chicken with potatoes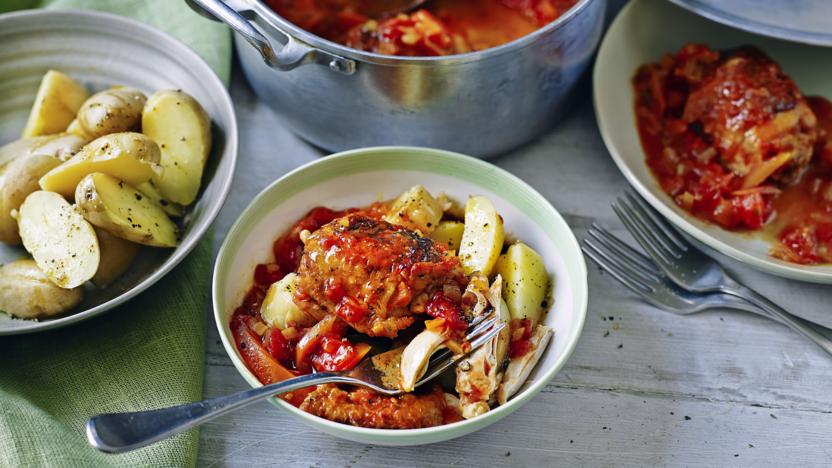 This easy Mediterranean chicken recipe is a great meal to have bubbling away on the stove for a simple supper with friends or a family-friendly mid-week meal. This is designed to be a low cost recipe.

This recipe is perfect for batch cooking, cook the chicken sauce and divide it into portions and pop in the freezer, it will keep in the freezer for 2 months. You can cook the potatoes while you reheat the sauce.
Method
Heat a large saucepan over a medium heat. Add the oil and, once hot, add the chicken thighs, skin side down. Brown the chicken on each side for 3-4 minutes, or until nicely golden-brown all over. Remove the thighs from the pan and set to one side.

Add the onion and carrot with a pinch of salt to the saucepan and stir over the heat. Fry for 6-7 minutes, or until the onions are soft and translucent. Add the garlic and continue to cook for two more minutes.

Add the browned chicken back to the pan along with any juices from the meat. Pour over the tomatoes, stock and mixed herbs and mix well to make sure everything is evenly distributed. Season with a little salt and pepper, cover with a lid and gently simmer for 20 minutes, or until the chicken is cooked through and the sauce thickened slightly.

Meanwhile boil the potatoes in a saucepan of boiling water for 10-12 minutes, or until tender and cooked through. Drain and serve alongside the cooked chicken.
Recipe Tips
In March 2022 this recipe was costed at an average of £3.30 when checking prices at four UK supermarkets.
This recipe is designed to be made in conjunction with a low-cost store-cupboard, for more details click here to see how our budget recipes were costed.