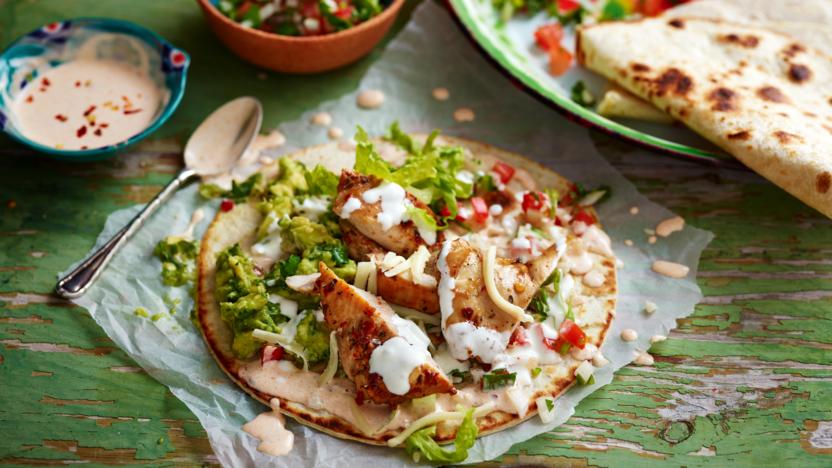 These authentic chicken burritos are the real deal. Topped with pico de gallo, chipotle crema, guacamole, soured cream and cheese, guests won't be dissapointed.
Ingredients
For the chicken
For the chipotle crema
For the pico de gallo salsa
For the guacamole
To serve
Method
To make the chicken, mix the lime juice, garlic, oil, oregano, chilli, sugar and salt and pepper together in a large bowl. Add the chicken, cover and place in the fridge for at least 2 hours.

Meanwhile, to make the chipotle crema, mix the chipotles en adobo, soured cream and mayonnaise with a squeeze of lemon juice and a pinch of salt and set aside.

To make the pico de gallo, mix all the ingredients together with ½ teaspoon of salt in a bowl and set aside.

To make the guacamole, pound the chilli in a pestle and mortar with the onion and ¼ teaspoon of salt, into a lumpy paste. Add the avocado and break up the flesh roughly with a fork. The result should be lumpy not smooth. Stir in the lime juice, to taste, and the chopped coriander.

Place a frying pan over a high heat and cook the chicken thighs, without the marinade, until browned and sealed. Add the marinade to the pan, cover with a lid and cook for 10–15 minutes, or until the chicken is cooked through as the juices run clear. Slice the chicken into strips.

Meanwhile, cook the rice according to packet instructions.

Divide the tortillas between four plates and top with the rice, chicken, sauces, mozzarella and lettuce. Fold up the bottom of each tortilla, then fold the sides in and roll to contain the filling. Cut in half to serve.
This recipe is from...
Recipes from this episode