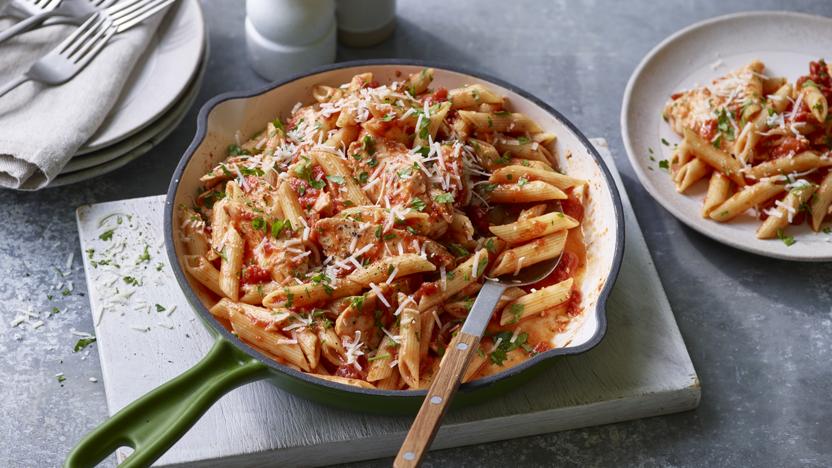 This simple, delicious chicken arrabiata is easy for even novice cooks to prepare and good for those on a budget too.

Each serving provides 640 kcal, 40g protein, 83g carbohydrates (of which 13g sugars), 15g fat (of which 3g saturates), 6.5g fibre and 0.3g salt.
Method
Season the chicken all over with salt and pepper. Heat 2 tablespoons of the oil in a heavy-bottomed frying pan. Add the chicken breasts and fry over a medium–high heat until just golden brown on the outside – they will cook through later. Lift from the pan onto a plate to catch any juices.

Mix the garlic and parsley together in a small bowl. Add the rest of the oil to the pan with the garlic and parsley mixture and chilli flakes. Turn the heat down and sizzle together for about 30 seconds until really fragrant, but do not let the garlic brown. Quickly mix in the tomatoes and sugar. Quarter fill each can with water to rinse out the last of the tomato sauce and tip this all into the pan too.

Squish the chicken breasts back down into the sauce and simmer gently for 8–10 minutes, turning the chicken over halfway through. Check the chicken is cooked through and lift from the sauce onto a chopping board. Cook the sauce for about 10 minutes until it is thick and the top is glistening with oil. Taste to see if it needs more seasoning and keep warm. Slice the chicken breasts and return to the sauce.

Meanwhile, bring a large saucepan of water to the boil. Tip the pasta into the boiling water and cook for 9–11 minutes or until cooked to your liking. Drain the pasta thoroughly and combine with the sauce.

To serve, scatter over some parsley, if using, and top with Parmesan.
Recipe Tips
The chilli flakes provide a good amount of heat in this recipe – if you are sensitive to spice then just add half of the chilli flakes to start, and check the heat level after removing the chicken breasts. Do not skimp on the oil as it is really important for adding flavour!
If you have a basil plant, scatter over a few leaves to serve.