Chicken and sweetcorn soup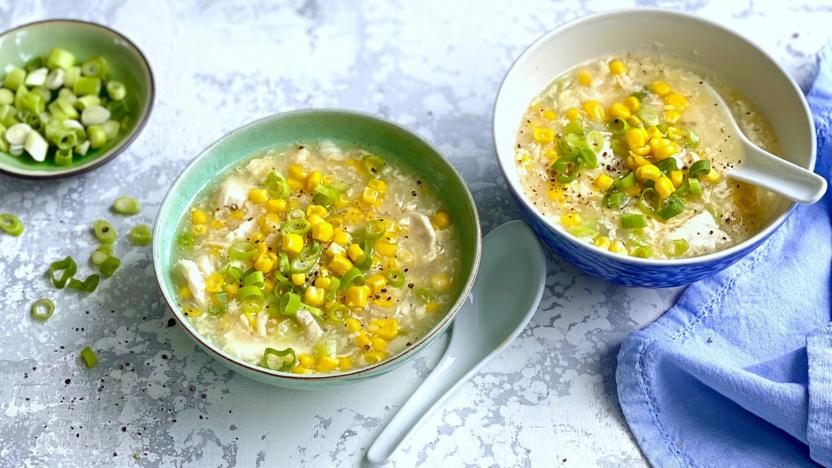 This quick chicken and sweetcorn soup is a perfect way to use up scraps of chicken leftover from a roast. Use fresh stock instead of stock cubes if you like.

Each serving provides 124 kcal, 11g protein, 11g carbohydrates (of which 3.5g sugars), 3.5g fat (of which 1g saturates), 1.5g fibre and 1.7g salt.
Method
Put the stock cubes in a large saucepan and pour in 900ml/1⅔ pints water. Bring to the boil, stirring occasionally to dissolve the stock cubes. Add the sweetcorn and chicken and simmer gently for 3 minutes, stirring regularly.

Mix the cornflour with 3 tablespoons cold water in a small bowl. Stir the spring onions and the cornflour mixture into the stock and cook, stirring constantly, for 3–4 minutes, or until thickened. Season to taste with pepper. Remove the pan from the heat.

Pour the beaten egg over the hot soup and very lightly stir with a fork to distribute the egg strands. Ladle the soup into warmed bowls and scatter with parsley, if using.
Recipe Tips
For a vegetarian version, use vegetable stock and stir in thinly sliced mushrooms instead of the chicken.
Using 1½ stock cubes means you won't need to add extra salt. The remaining ½ cube can be wrapped tightly and used for another recipe. If you prefer to use 1 cube, you may need to season to taste with extra salt.
Use around 175g/6oz frozen sweetcorn or frozen peas instead of tinned sweetcorn if you like.
Use 1 thinly sliced leek or half a finely chopped onion instead of the spring onions.