Easy chicken and chorizo pasta bake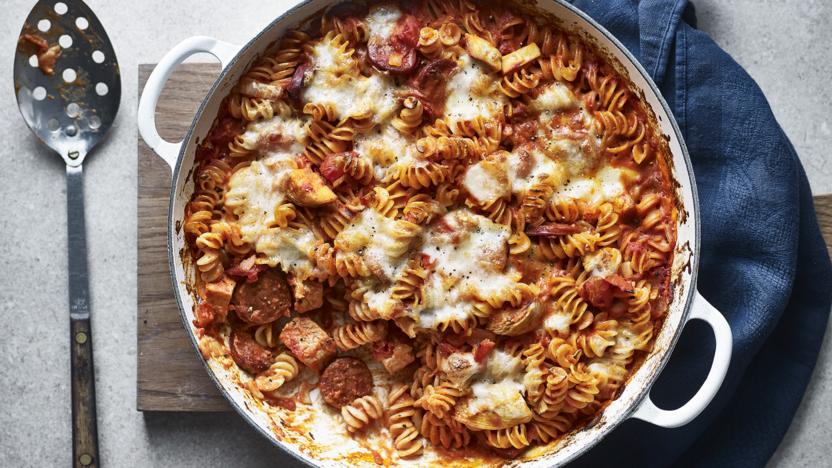 This low-cost chicken and chorizo pasta bake will soon become a mid-week favourite as it's easy to make after a busy day.

Each serving provides 762 kcal, 54g protein, 71g carbohydrates (of which 10.5g sugars), 27.5g fat (of which 14.5g saturates), 7g fibre and 2.1g salt.
Method
Bring a large saucepan of salted water to the boil and add the chicken. Reduce the heat to medium–low and gently poach the chicken for 10–15 minutes, or until just cooked through. Remove from the pan with a slotted spoon and set aside to cool.

Bring a saucepan of salted water to the boil once more and add the pasta. Cook for just 10 minutes, or until the shapes are just softened but still have a lot of bite. Drain thoroughly.

Preheat the oven to 200C/180C Fan/Gas 6. Add the onion and chorizo to a large casserole set over a medium–high heat and fry for 7–8 minutes, or until the onion has softened. Add the garlic, followed by the chilli flakes and paprika. Cook until the garlic is aromatic.

Add the tomatoes, washing out the residual tomato juices from each tin with the wine (or water if not using wine). Stir the tomatoes into the sauce and leave to simmer for 5 minutes. Remove the pan from the heat and stir in the cream. Season with salt and pepper.

Chop the chicken breasts into bite-sized chunks and stir into the sauce along with the pasta. Tear the mozzarella and scatter over the top of the pasta. Finish with more black pepper and bake in the oven for 40 minutes, covering the dish with foil about halfway through, once the cheese is brown and bubbling.
Recipe Tips
To freeze, after the stage of adding the cheese, cover with cling film and allow to cool. Place in the freezer. To cook from frozen, add an extra 10–15 minutes to the baking time.