Chicken and broccoli pasta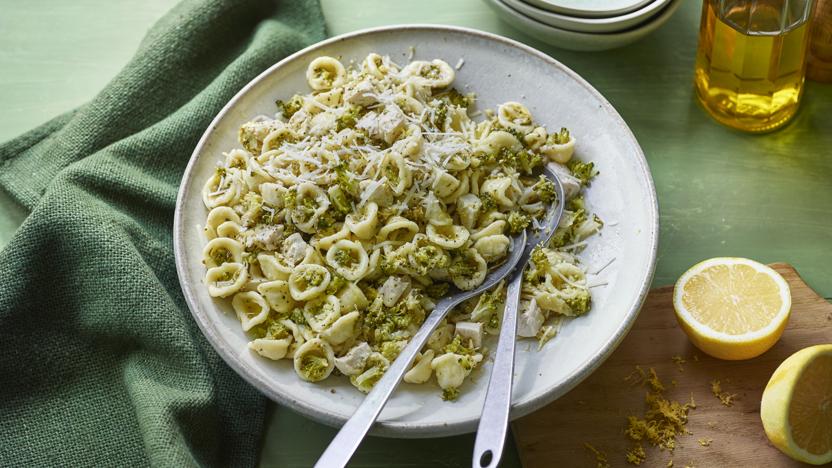 In this traditional Tuscan version of chicken and broccoli pasta, broccoli steams in stock and olive oil until it emulsifies into a glorious sauce.

Each serving provides 650 kcal, 46g protein, 66g carbohydrates (of which 4g sugars), 21g fat (of which 5g saturates), 8g fibre and 0.5g salt.
Method
To poach the chicken, put the stock in a saucepan with a lid and bring to the boil. Drop in the chicken breasts, put on the lid and take off the heat. Leave for 25 minutes until the chicken is cooked through but still juicy. Set aside and reserve the poaching liquid.

Meanwhile, about halfway through poaching the chicken, boil or steam the broccoli until really tender, then drain well and roughly chop into small pieces.

Heat the oil in a frying pan and fry the garlic and rosemary for 2–3 minutes until the garlic is golden and fragrant. Pour in all of the chicken stock from the poaching pan. Add the broccoli and simmer, breaking down the broccoli with the back of a spoon. As it cooks, mash the broccoli into a very soft sauce. It won't be smooth but there should not be any noticeable lumps left. Dice the chicken. When the broccoli sauce is 'creamy', smooth and no longer watery, stir through the chicken until warmed.

Meanwhile, bring a large saucepan of water to the boil and cook the pasta according to the packet instructions. Drain thoroughly, reserving a cup of the water, then toss the pasta into the sauce with the lemon zest, half of the Parmesan and plenty of pepper. Add a splash of the pasta water if it looks dry. Serve with the rest of the Parmesan and a drizzle more oil.
Recipe Tips
This recipe uses chicken and chicken stock, but you could easily use vegetable stock and make it without meat. Orecchiette is the traditional pasta shape used with this broccoli sauce, but shells, farfalle or fusilli would work well too.