Chewy lemon and thyme cookies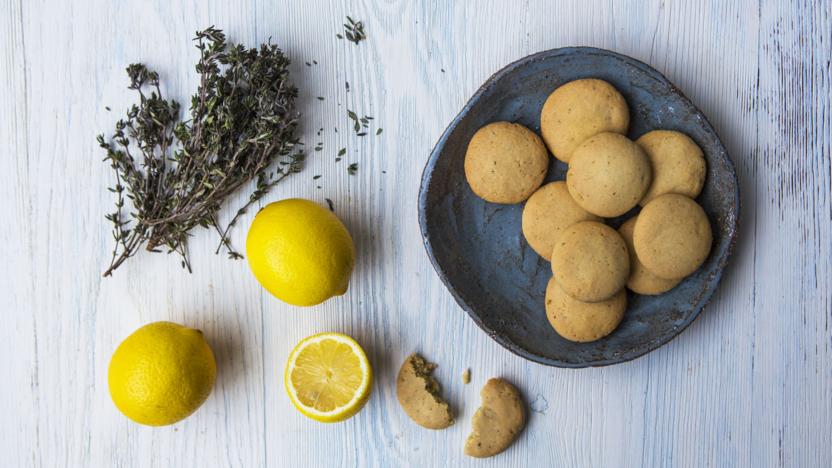 These dairy-free, flourless cookies are perfect for vegans and those following a gluten-free diet.

Each cookie provides 108 kcal, 3g protein, 5g carbohydrate (of which 3g sugars), 8.5g fat (of which 0.7g saturates), 0.5g fibre and 0.2g salt.
Method
Preheat the oven to 180C/160C Fan/Gas 4. Line a baking tray with baking parchment.

Pulse the almonds, arrowroot, salt and bicarbonate of soda in a food processor until the mixture is well combined and resembles breadcrumbs.

Add the maple syrup, thyme leaves and lemon zest and pulse again until the mixture comes together as a ball of dough.

Remove the dough from the food processor. Tear off 10 equal-sized pieces of the dough and roll them into golf-ball-sized balls, then flatten each between the palms of your hands and place onto the prepared baking tray, leaving plenty of space between each cookie.

Bake for 10-12 minutes, or until crisp and golden-brown at the edges. Remove the tray from the oven and set aside to cool. The cookies will crisp up as they cool, but will still be soft in the middle.
Recipe Tips
Tip 1: Adjust the quantity of maple syrup to suit your taste. We always recommend reducing even natural sweeteners as much as possible.
Tip 2: These cookies keep well in the fridge in an airtight container. They can also be frozen individually and heated from frozen when you fancy a sweet treat.