Cherry clafoutis with cherry ice cream and chocolate sauce
Make the most of cherry season with a double cherry pudding, plus chocolate sauce, of course!


Ingredients
For the cherry ice cream
For the cherry clafoutis
For the chocolate sauce
Method
To make the ice cream, place the cherries, sugar, 50ml/2fl oz water, grenadine and brandy in a saucepan over a medium heat. Simmer for about 5 minutes until it becomes slightly syrupy. Place in a blender and blitz until smooth. Leave to cool.

Pour the cream and milk into a large bowl with the vanilla. Whip using an electric mixer until the mixture is combined and has fairly hard peaks. Do not over-whip or it will separate. Spoon half the mixture into a tray. Drizzle over half the cherry mixture and, using a knife point, swirl through the cream mix. Repeat with the other half of the cream and cherry mixture. Transfer to a freezerproof container and freeze for at least 5 hours until firm, beating at hour intervals with a fork to break down any ice crystals that form.

To make the cherry clafoutis, melt the butter in a frying pan until foaming. Add the cherries, 100g/3½oz caster sugar, cinnamon, orange zest and juice and kirsch. Cook for 10 minutes, until the cherries are tender and the juices are thickened. Pour into a shallow ovenproof pudding dish.

Preheat the oven to 190C/170C Fan/Gas 5.

Beat the egg yolks with the remaining caster sugar until light and creamy. Mix in the almonds, rice flour, vanilla, almond extract and crème fraîche. In another bowl, beat the egg whites with the salt until soft peaks form, then fold into the egg yolk mixture. Pour the batter over the fruit and bake for about 25 minutes, or until set.

To make the chocolate sauce, put all the ingredients in a saucepan and cook over a gentle heat until all combined and the chocolate has melted.

Serve the clafoutis in bowls and top with a dusting of icing sugar. Serve with the ice cream and chocolate sauce.
This recipe is from...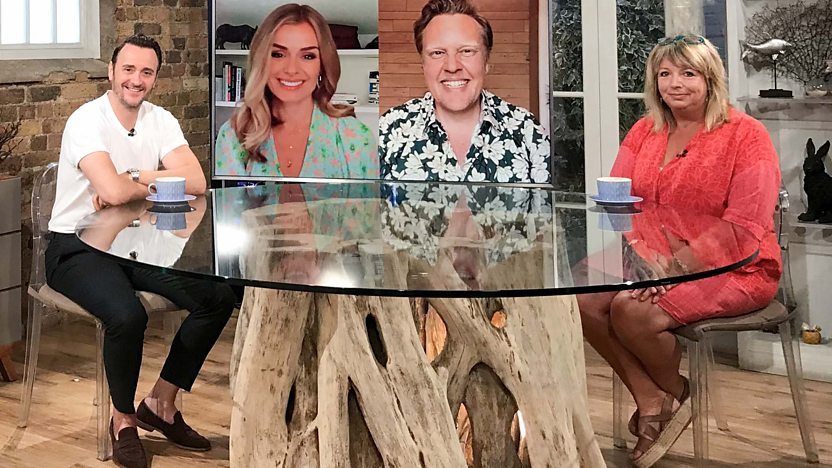 Saturday Kitchen
04/07/2020