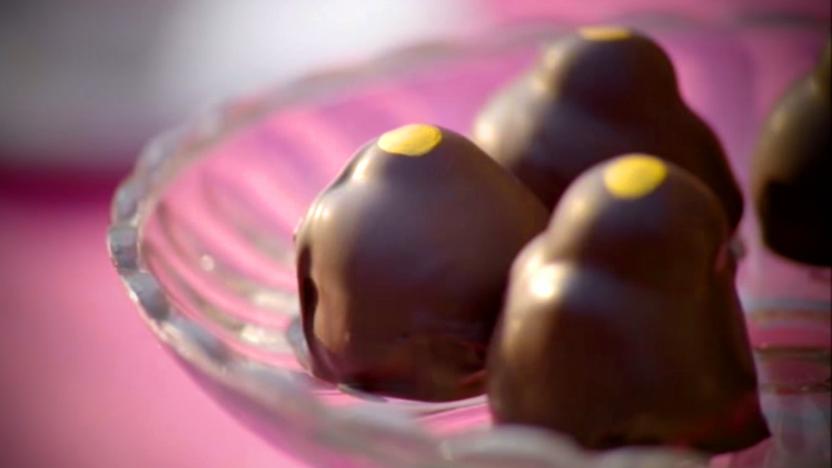 These ganache-rich, liqueur-soaked cherry chocolates will have friends and family swooning in delight.

Equipment and preparation: you will need to soak the cherries for a week before making the chocolates and a chocolate thermometer will help when tempering the chocolate.
Method
A week before you want to cook, start soaking the cherries. Empty the liquid out of the cherry jar and fill it right to the top with kirsch instead. Put the lid back on and leave it in the fridge.

After a week, drain the cherries, reserving the kirsch liquid.

Line a 40x35cm/16x14in baking tray with baking parchment.

Put 200g/7oz of the broken chocolate into a bowl.

Heat the cream and butter in a saucepan until simmering, without letting it boil. Be careful it does not burn or catch on the bottom of the pan.

Take the pan off the heat, pour the mixture over the chocolate and give it a brisk stir. Set aside, but check it to make sure that all the chocolate has melted. Give it a stir to help it along if need be. Add two tablespoons of the reserved kirsch and stir.

Cool the mixture for approximately an hour, or until a teaspoonful will hold its shape. Put small spoonfuls of mixture (about the size of a pound coin) onto the baking tray. Once you have 20, go back and put another spoonful of mixture on top of the original. Try to make them quite tall.

Place a cherry on top of each pile, pressing it down slightly. Place in the fridge to cool for 15 minutes.

Temper the remaining chocolate. Put the chocolate into a bowl set over a pan of simmering water. Don't let the bowl touch the water or the chocolate will burn and don't let any water into the chocolate or the chocolate will seize. Put a chocolate thermometer in the bowl and bring the chocolate up to 42C/107F, then take off the heat and cool to 32C/90F.

Using two forks, carefully dip each cherry chocolate mound in the melted dark chocolate until coated all over. Place onto the lined baking tray. Leave the coated hat pegs in a cool place to cool completely and set.

Dot the top of each one with a twinkle of edible gold paint (if desired).
This recipe is from...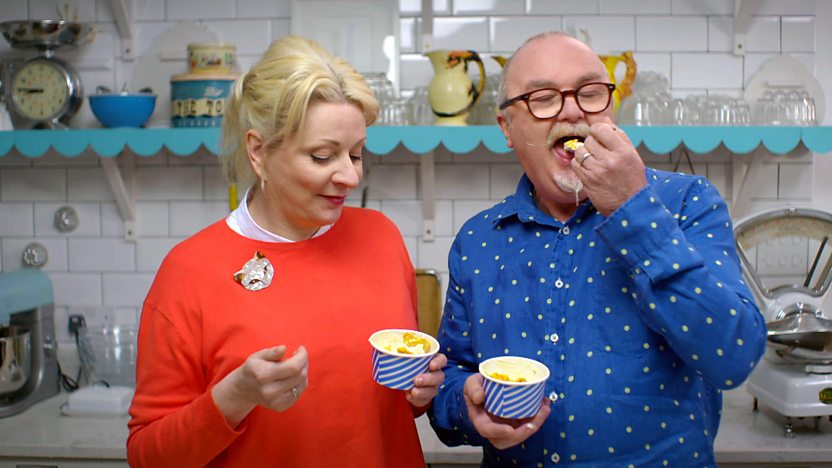 Sweets Made Simple
Episode 4
Recipes from this episode