Cheesy garlic bolognese beef pie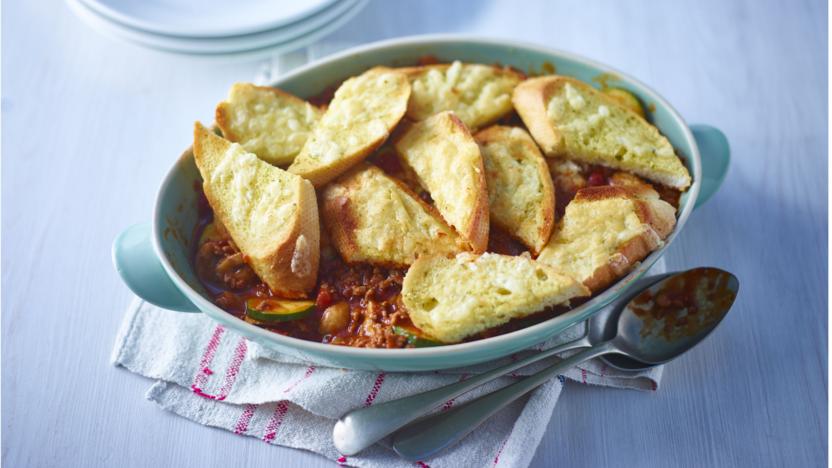 This cheap, easy recipe is ready in just 20 minutes and can be made entirely from frozen and storecupboard ingredients.
Method
Unwrap the frozen cheesy garlic bread slices and separate them. Put them onto a chopping board to begin to defrost while you make the bolognese mixture.

Heat a large, heavy-based, non-stick saucepan over a medium heat. Add the onion and beef and fry for 6-8 minutes, stirring regularly to break up the beef mince as you go. Continue to cook until the beef is no longer pink, then sprinkle over the flour and stir well.

Add the tinned tomatoes, tomato purée and wine to the pan and stir well. Pour in the just-boiled water, then stir in the mixed herbs and bay leaf.

Crumble in the stock cube, stir again, then season the mixture with salt and pepper. Bring the mixture to the boil, then reduce the heat until the mixture is simmering and simmer gently for 8-10 minutes, stirring regularly, until the sauce has thickened.

Add the courgette and mushrooms to the bolognese sauce, return the mixture to a gentle simmer and cook for a further 5 minutes, or until heated through.

Meanwhile, preheat the grill to its hottest setting.

Half-fill a shallow 2.5 litre/4½ pint ovenproof dish with hot water and set aside for 5 minutes to warm the dish through. Carefully empty the water from the dish, then fill it with the bolognese sauce mixture.

Cut the defrosted garlic bread slices in half horizontally to create two slices from each. Arrange the slices on top of the bolognese sauce, to cover.

Place the beef bolognese pie under the grill and grill until the garlic bread has crisped up and is pale golden-brown (about 5 minutes). Serve immediately with green beans or a mixed salad.
Recipe Tips
Tip 1: Freezing tenderises meat, so this bolognese sauce will be extra-tender despite the short cooking time.
Tip 2: This meat sauce can also be made as an extra-quick bolognese and served with spaghetti, with the garlic bread on the side.
Tip 3: Freeze any leftover bolognese sauce in a sealed freezer bag for up to 3 months. Thaw in the fridge overnight, then reheat in a large non-stick saucepan and top as above.