Cheesy chorizo, tomato and broccoli pasta bake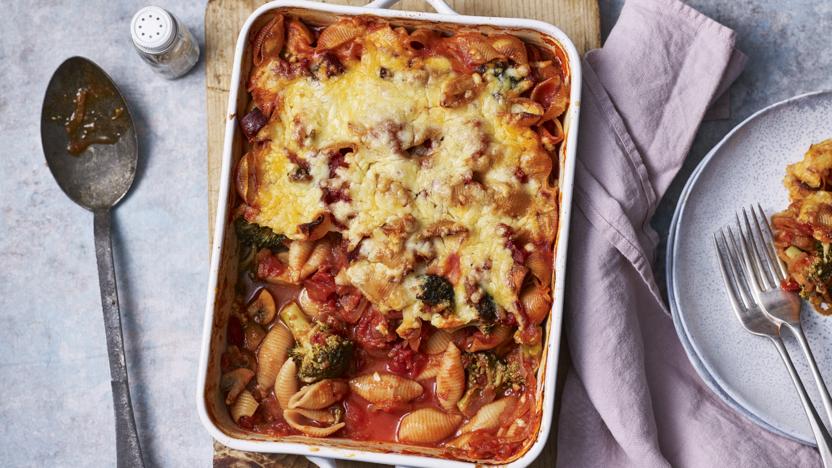 With loads of flavour, this cheesy pasta bake will leave you totally satisfied. By cutting the chorizo into small chunks, you should get a little piece in most mouthfuls so you don't notice you are eating less meat. This also works for other dishes such as stews, casseroles, curries and pies.
Method
Preheat the oven to 200C/180C Fan/Gas 6.

Heat the oil in a large saucepan over a medium heat. Add the chorizo, red onions, mushrooms, garlic, chilli flakes, paprika and oregano and fry for 15 minutes, or until the onions have softened, stirring often.

Add the tomatoes, then fill each tin a quarter full of cold water. Swill around to gather any remaining tomato, tip into the pan and season with salt and pepper. Bring to a simmer and cook for 5 minutes.

Meanwhile, bring a large saucepan of salted water to the boil, add the pasta and cook according to the packet instructions. Add the broccoli 4 minutes before the end of the cooking time. Drain the pasta and broccoli, then tip into the cooked tomato sauce and stir.

Pour into a large baking dish, top with the cheese and bake for 15 minutes, or until golden brown and bubbling.
Recipe Tips
If you want to eat less meat without going vegetarian, try adding a pinch more herbs and spices than usual to create lots of delicious, bold flavours. Smoked paprika, cumin and caraway and strong herbs such as oregano and rosemary are perfect for this. Bulk up your meal using ingredients that have satisfying flavours and textures, such as mushrooms, lentils and beans. When making dishes that need liquid, such as soups, stews, curries and casseroles, use a good meat stock so the flavour runs throughout the dish.