Cheesy bean and lentil bake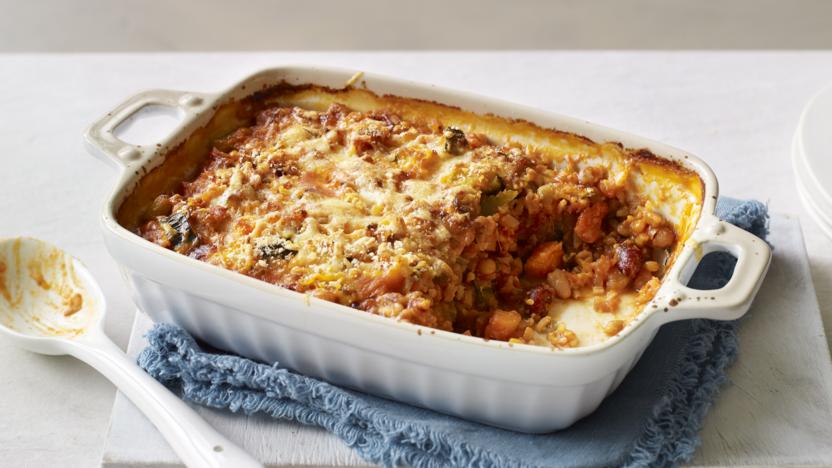 This hearty veggie lentil bake can be prepared in advance and topped with cheese and breadcrumbs just before cooking.

Based on six servings, each portion provides 361 kcal, 17g protein, 36g carbohydrate (of which 10g sugars), 15g fat (of which 6g saturates), 7g fibre and 0.7g salt.
Method
Preheat the oven to 190C/170C Fan/Gas 5.

Heat the oil in a large saucepan and add the onion, celery and carrot. Cook over a medium–low heat for 10 minutes, or until softened. Add the courgette, garlic, chilli and oregano and cook for 2–3 minutes.

Stir in the rice and season with salt and pepper. Pour in half the vegetable stock and a tin of tomatoes. Bring to a gentle simmer, cover with a lid and cook for 12–15 minutes, or until the rice is al dente and has absorbed most of the stock.

Add the remaining stock and tomatoes, the beans, lentils and tomato purée. Cook for 5 minutes to reduce a little. Taste and adjust the seasoning if necessary, you may need to add a pinch of sugar to balance the acidity of the tomatoes.

Stir in 100g/3½oz of cheese and pour into a large ovenproof dish. Top with the remaining cheese and breadcrumbs.

Bake on the middle shelf of the oven for 30 minutes, until the topping is crisp and bubbling. Leave to sit for 2–3 minutes before serving with steamed greens.