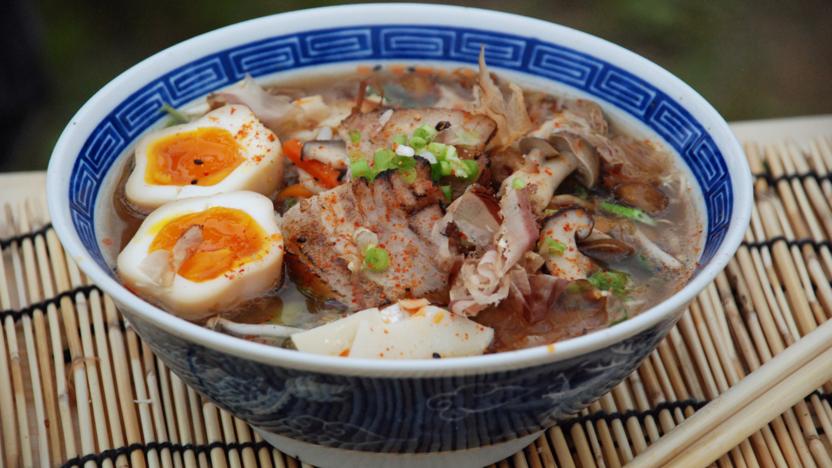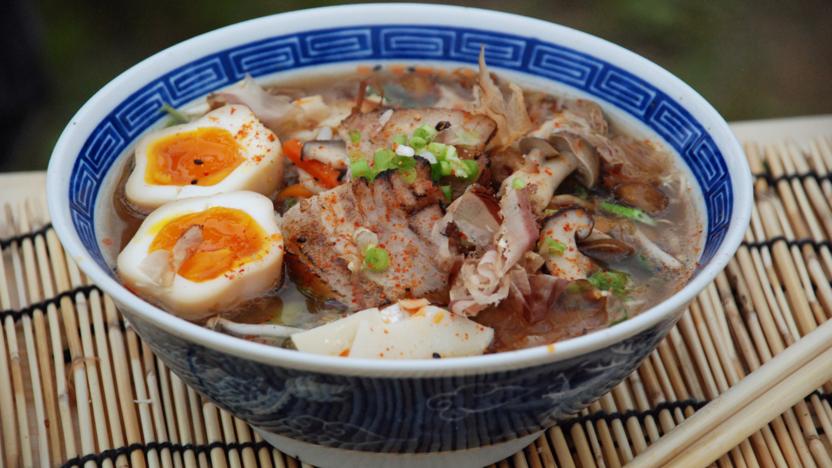 This ramen looks effortless in its assembly, but the key to its success is the slow-cooked intensely savoury Japanese-style stock coupled with full-flavoured braised pork and overnight marinated eggs.
Ingredients
To serve (optional)
Japanese shop-bought chilli oil
shichimi togarashi (Japanese seven-spice seasoning)
dried tuna flakes
Method
Cook the noodles following the instructions on the packet. Once cooked, drain and drizzle with a little sesame oil to stop the noodles from sticking.

Heat the stock in a large pan with the ginger, garlic, shiitake mushrooms and carrots.

Simmer for 5-8 minutes. Add the shimeji mushrooms.

Carefully arrange the warm noodles, beansprouts, bamboo shoots, enoki mushrooms, choi sum and sliced pork in four large serving bowls.

Carefully pour the stock over the pork and vegetables with a ladle. Top with the spring onions and sliced chilli.

Carefully half the eggs and place on the top of each serving.

Serve at once with a drizzle of chilli oil, a sprinkling of shichimi togarashi (Japanese seven-spice seasoning) and a flourish of dried tuna flakes (if liked).
Recipe Tips
If you don't have any chashu pork, you could substitute it with leftover roast pork.