Chargrilled sweet and sour prawns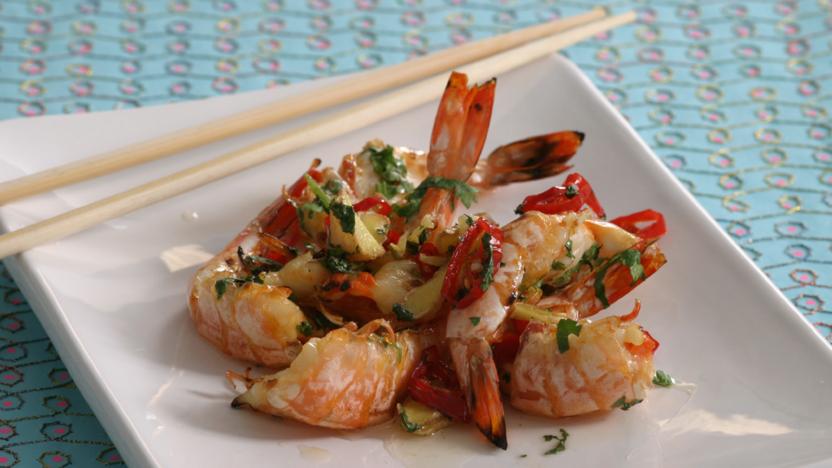 Sweet, sour and deliciously smoky - these chargrilled prawns are a wonderful starter or addition to a tapas style meal.
Ingredients
For the sweet and sour sauce
Method
To butterfly the prawns, first remove the head by twisting it off, then discard. Don't remove the shell. Place the prawn on its back on a cutting board. Using a small, sharp knife, cut through the centre of the body from below the head down to the tail. Don't cut all the way through the flesh. Repeat with the remaining prawns.

For the sweet and sour sauce, pour the vinegar into a small pan (not aluminium) over a medium heat. Add the sugar and heat through.

Slice the ginger into thick slices and add to the sauce in the pan.

Slice the chilli and add to the pan. Simmer the sauce until the sugar is dissolved and the sauce is reduced and sticky - about five minutes. Taste and adjust flavour as needed by adding a touch more sugar or vinegar, as necessary.

Meanwhile, heat a ridged grill pan until hot. Sprinkle the sea salt over the prepared prawns. Pour over the oil, then rub it into the prawns.

Place the prawns on the hot grill pan and grill until cooked through and slightly charred (this will take about 2-3 minutes). Press down lightly with tongs to ensure even cooking. Turn the prawns over and cook for another 2-3 minutes on the other side.

Chop the fresh coriander. When the prawns are cooked, transfer them into the pan with the reduced sauce.

Add the coriander and a squeeze of fresh lime juice to the pan.

Stir together until the prawns are coated in the sauce. Serve straightaway.