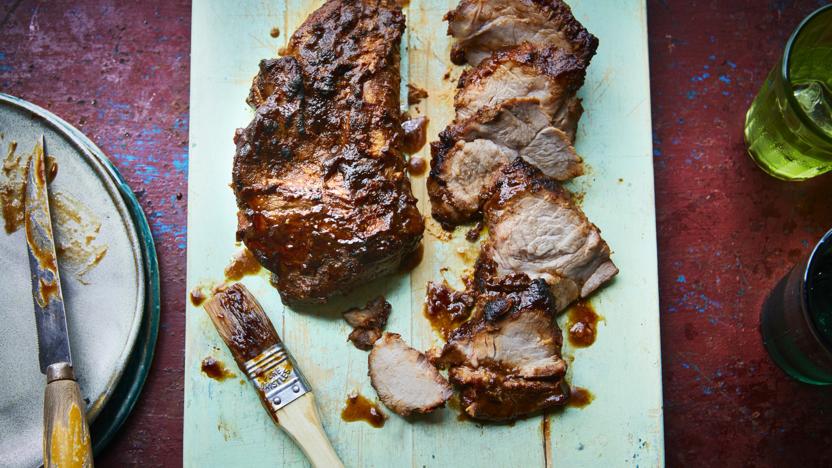 Char siu pork is traditionally cooked on a barbecue, but oven instructions are also provided here for convenience. It's packed with flavour and beautifully tender, which makes it perfect to serve in bao buns or simply with rice and stir-fried vegetables.
Ingredients
600g/1lb 5oz pork shoulder, skin removed, cut into 2 thick lengths
For the marinade
Method
Place the pork in a roasting tin. Mix the marinade ingredients together in a small bowl and rub all over the pieces of pork. The pork can be cooked immediately but, ideally, cover and leave in the fridge to marinate for at least 1 hour or overnight for the best results.

Preheat the oven to 180C/160C Fan/Gas 4. Roast the pork for 1–1½ hours, turning once and basting occasionally, until well charred and caramelised on the outside.

If barbecuing, preheat the barbecue to as close to 150C as possible with the coal around the outer edge of the barbecue bowl. Place the meat in the centre of the grill or hang in the centre of the grill on a rotisserie stick and barbecue for 1–1½ hours, basting occasionally, until well charred and caramelised on the outside.

Once cooked, there should be a very caramelised sauce at the bottom of the tin or barbecue pan. Dilute the sauce with boiling water from the kettle until you have the desired consistency. Carve the meat into 3–4mm/¼in thick slices and drizzle with the sauce.
Recipe Tips
The slower the cooking process, the more succulent the meat will become so you can also cook the meat at 130–140C/110–120C Fan/Gas ½–1 for 3–4 hours. However, for a quicker dinner, you can also cook this quickly at 200C/180C Fan/Gas 6 for 15–20 minutes on each side to char both sides of meat and basting every 10 minutes for added depth of flavour.