Chana dal with tarka and tamarind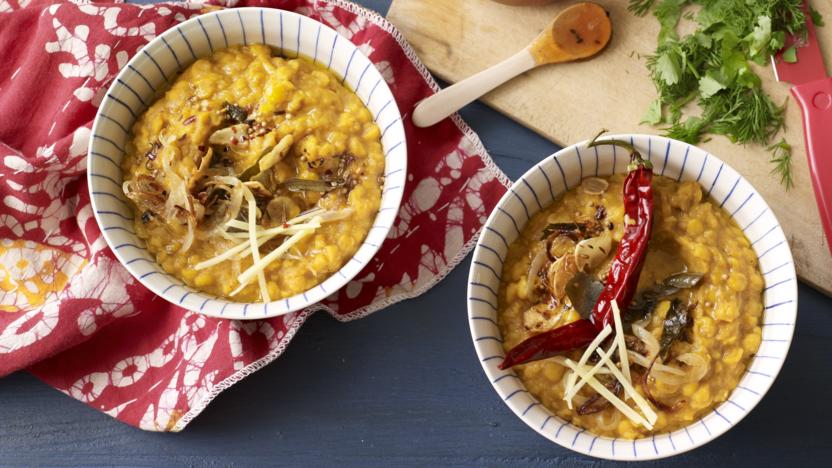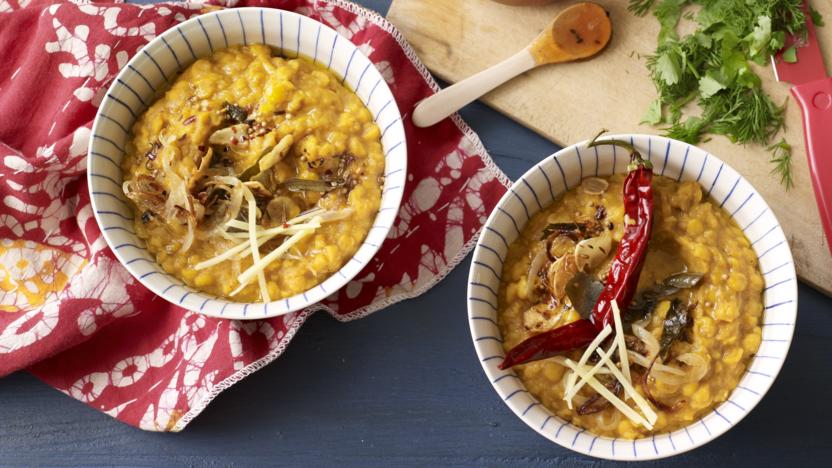 Layering up garnishes when serving a dal makes it taste extra special. This dal is topped with a tarka, tamarind sauce, crispy onions, root ginger and fresh herbs.
Ingredients
For the tarka
To serve
Method
Drain the chana dal and put it into a large saucepan with the garlic, red chilli powder, turmeric, cinnamon stick and salt.

Pour in 350ml/12fl oz water, or enough to cover the dal and bring it to the boil.

Cook for 15–20 minutes, or until soft. You are looking for a firm and not mushy dal. If it is a little watery, using a wooden spoon, crush some lentils around the sides of the pan to thicken the sauce. Season the dal and put it in a serving bowl.

Meanwhile, fry the onion in the ghee until browned, then transfer it to kitchen paper and set aside.

For the tarka, melt the ghee in a small frying pan over a medium heat. Fry the garlic until it starts to brown lightly. Add the cumin and mustard seeds and cook until they splutter. Quickly add the dried red chillies and curry leaves and cook for 5 seconds. Immediately pour the tarka over the dal.

Garnish with the tamarind chutney, onions, herbs, ginger and chaat masala.