Cauliflower cheese and potato bake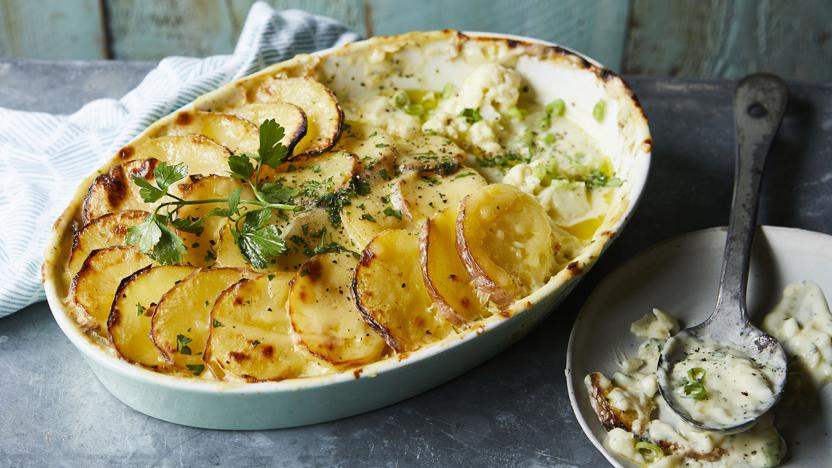 Once you've made this version, you could try mixing up the cheese – use some something with a similar strength to mature cheddar, such as a creamy Stilton.
Ingredients
For the topping
Method
Bring a large saucepan of water to the boil. Add the cauliflower and cover with a lid. When the water returns to the boil, cook for just 2 minutes. Drain well and leave in the colander to thoroughly steam dry while you make the sauce. The cauliflower should still have a lot of bite.

Place the white parts of the spring onions in a saucepan with a lid. Add the butter and onion and, once the butter has melted, put on the lid and cook until really soft but not coloured, stirring occasionally.

Stir in the flour and mustard powder, then gradually stir in all the milk followed by the stock. Cook over a gentle heat, stirring, until it just begins to bubble and has thickened. Remove from the heat and stir in both cheeses until melted. Add the cream, parsley, white pepper and ½ teaspoon of salt. Combine the sauce with the cauliflower in a large baking dish. Stir through the green parts of the spring onions.

To make the topping, bring a large saucepan of water to the boil and add the whole potatoes. Cook for 15 minutes, or until almost cooked. Drain and, when cool enough to handle, slice into 5mm/¼in-thick rounds. Layer the potatoes over the cauliflower mixture (you can cover and chill the bake for 1 day or freeze for up to 3 months).

Preheat the oven to 200C/180C Fan/Gas 6 and brush the topping with the oil. Season the top with salt and pepper, then bake for 30–40 minutes, or until golden and the sauce below is bubbling. Preheat the grill and scatter the extra cheddar over the top. Grill briefly to melt the cheese and brown the top. Garnish with parsley, if preferred and serve immediately.