Lighter cauliflower cheese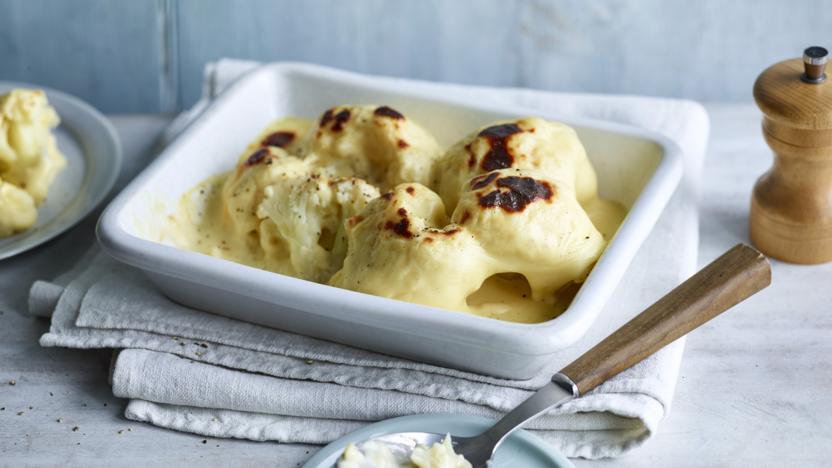 This lighter version of cauliflower cheese is a perfect side to your roast dinner, or with steamed vegetables.

Each serving provides 293 kcal, 14g protein, 26g carbohydrates (of which 14g sugars), 14g fat (of which 8.5g saturates), 5g fibre and 0.6g salt.
Method
To make the sauce, pour the milk into a small saucepan, add the onion and bring to the boil. Remove from the heat and leave to infuse for 20 minutes, or at least 5 minutes.

Bring a medium saucepan of salted water to the boil. Add the cauliflower and simmer for 3–4 minutes, or until just tender. Drain and tip into a small ovenproof dish.

Melt the butter in a medium saucepan. Stir in the flour and cook over a low heat for 2 minutes, stirring all the time with a wooden spoon, until slightly sandy textured and a light golden brown colour – do not allow the roux to darken too much.

Lift the onion out of the milk and discard, then pour a third of the milk onto the roux, whisking all the time. Cook very gently for a couple of minutes before adding the remaining milk. Gently simmer the mixture for 5–10 minutes, stirring all the time, until just thick enough to coat the back of the wooden spoon. Season with salt, pepper and nutmeg.

Preheat the grill to high.

Pour the sauce into a clean saucepan, add the cheese and mustard and heat, stirring until smooth. Pour over the cauliflower and put under the grill for 3–4 minutes, until bubbling and golden.

If not using immediately, cover with a piece of cling film and allow to cool to room temperature, then transfer to a sealable container and place in the fridge. It will keep for 3 days.
This recipe is from...
Recipes from this episode