Carrot hummus with garlic and herb flatbreads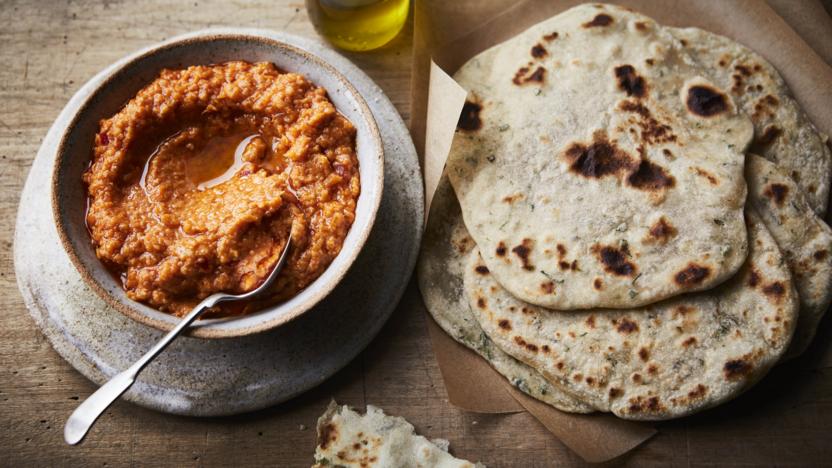 Hummus is always a favourite dip – why not try Mary's spiced carrot version for a change? Served with the quickest of flatbreads and so versatile too.


Ingredients
For the garlic and herb flatbreads
225g/8oz plain flour, plus extra for dusting
2 tbsp olive oil, plus extra for frying
130ml/4¼fl oz warm water
2 garlic cloves, crushed
2 tbsp freshly chopped parsley
1 tbsp freshly chopped basil
½ tsp salt
For the spiced carrot hummus
Method
For the flatbreads, measure the flour, oil and water into a large bowl and add a good pinch of salt. Mix everything together with a table knife and then use your hands to bring the mixture together into a soft dough. Tip onto a floured work surface and knead for 4–5 minutes.

Flatten the dough into a circle, sprinkle over the garlic and herbs and then bring together into a ball again. Knead until the garlic and herbs are well incorporated.

Divide into six even-sized balls. On a floured work surface, use a rolling pin to roll each ball out into a very thin circle.

Heat a large frying pan until very hot, then rub some oil into the pan using kitchen paper. Add one flatbread and fry for 2 minutes until it starts to puff up and turn lightly golden. Use a palette knife to flip over the flatbread and cook for another 2–3 minutes on the other side. Repeat with the remaining flatbreads, adding a little more oil to the pan if needed.

For the carrot hummus, place all the ingredients in a food processor, season with salt and pepper and whizz until just smooth and creamy. Serve with the warm flatbreads.
Recipe Tips
If you like spiced flatbreads, add crushed spices to the dough too. Cumin or caraway seeds or chilli flakes would work well.
For best results, the pan needs to be really hot before adding the first flatbread.
This recipe is from...
Recipes from this episode