Caramelised banana pancakes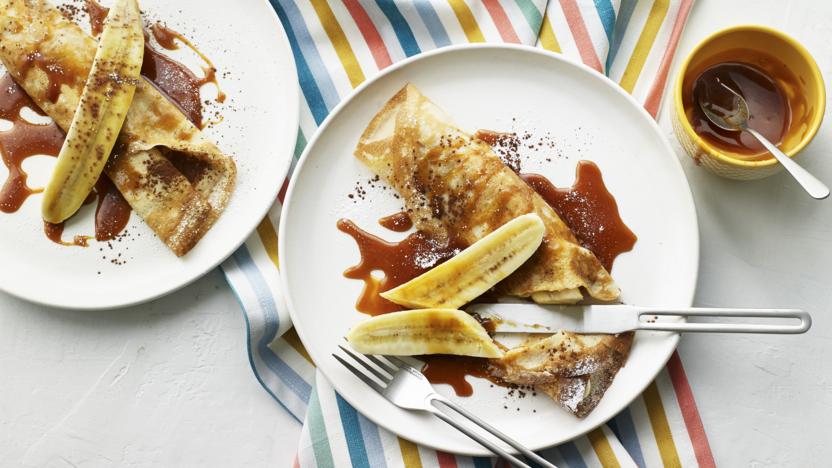 This recipe of banana-filled and banana-topped pancakes slathered in caramel sauce makes such a lovely and easy dessert, or even brunch.



Ingredients
For the batter
For the caramel sauce
For the bananas
Method
To make the pancake batter, put the flour, sugar, egg and milk in a food processor and blitz until smooth. You can also make the batter by hand. Leave to stand for 5 minutes.

While the batter is resting, make the caramel sauce. Put the sugar in a small saucepan with 3 tablespoons of water and stir well. Bring to a simmer and cook without stirring for 3-4 minutes, or until a golden chestnut brown colour. Swirl the pan gently a couple of times.

Remove from the heat and drop the butter carefully onto the caramel. Stir well with a wooden spoon until it melts and is thoroughly combined (take care not to splash yourself with the hot caramel). Stir in 3 tablespoons of warm water and put to one side.

Brush a non-stick frying pan with a little of the oil and set over a medium–high heat. Ladle roughly a quarter of the pancake batter into the pan and tilt so it covers evenly. Cook for 1½–2 minutes, then flip over and cook on the other side until pale golden brown. Transfer to a warmed plate and cook three more pancakes in the same way.

For the bananas, cut the bananas in half and use one half to fill each pancake. Drizzle with a little of the caramel sauce before rolling up. Place the other half of the banana on top and drizzle with the remaining sauce. Decorate with the icing sugar and cocoa powder and serve.
This recipe is from...
Recipes from this episode