Salted caramel cheesecake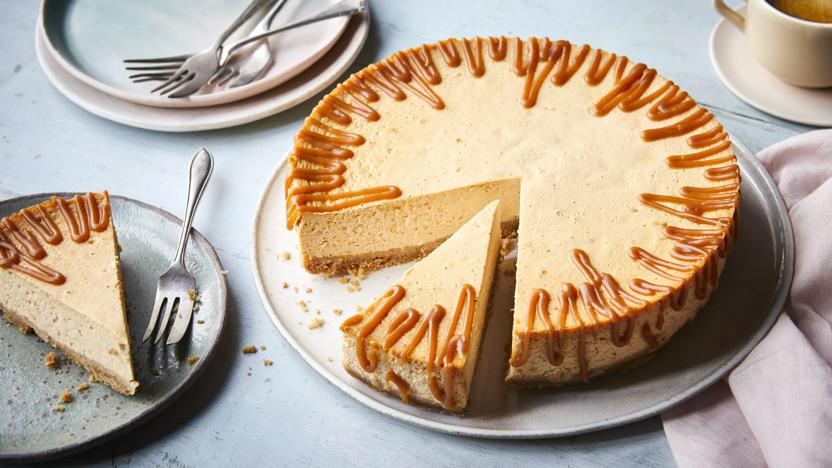 This decadent salted caramel cheesecake is much easier than you might think! Bake and chill it overnight for an effortless dinner party showstopper.

You will need a 20cm/8in springform cake tin for this recipe.
Ingredients
For the salted caramel
For the cheesecake
Method
To make the caramel, put the caster sugar into a heavy-bottomed saucepan and add 2 tablespoons water. Set the pan over a low heat to gently dissolve the sugar without stirring. Bring the syrup to the boil and cook over a medium heat until it becomes a deep amber coloured caramel. Swirl the pan as the caramel starts to colour to ensure that it cooks evenly, but avoid stirring.

Remove the pan from the heat and carefully stir in the light muscovado sugar, butter, double cream and salt until combined. Return the pan to a low heat to melt any hardened caramel, then bring to the boil and simmer for 30 seconds. Pour into a bowl and leave to cool to room temperature.

Preheat the oven to 170C/150C Fan/Gas 3.

Grease and line the base of a 20cm/8in springform tin with a disc of baking paper. Melt the butter and mix with the crushed biscuits in a mixing bowl. Press the buttery crumbs into the base of the tin in an even layer and bake on the middle shelf of the preheated oven for 5 minutes.

Reserve 1 heaped tablespoon of the salted caramel, and pour the rest into a mixing bowl. Add the cream cheese to the bowl, mix until smooth, then add the eggs, soured cream, lemon juice, vanilla and cornflour. Beat again until smooth.

Spoon the cheesecake mixture into the prepared tin and spread the top level. Place the tin on a baking tray and cook the cheesecake for 45–50 minutes until set, but with a slight wobble in the middle. Leave the cheesecake to cool to room temperature, then cover and chill for at least 4 hours, but preferably overnight.

Carefully remove the cheesecake from the tin and place on a serving plate. Warm the reserved caramel slightly to make it a little runnier and drizzle over the cheesecake to serve.