Cannon of lamb with celeriac potato cake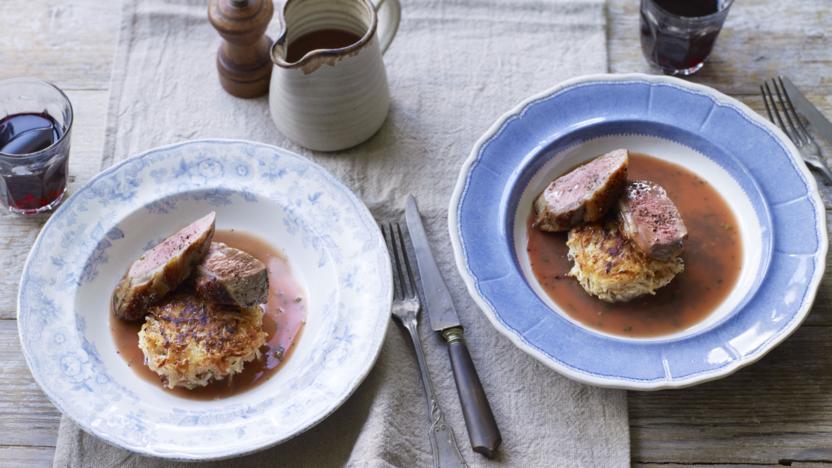 Cannon of lamb is also known as loin fillet – a lovely, tender cut that only needs a quick roast, served here with crisp celeriac potato cakes.
Ingredients
For the lamb
For the potato cakes
For the mint gravy
Method
Preheat the oven to 200C/180C Fan/Gas 6.

To make the potato cakes, grate the potato and celeriac into a bowl using a coarse grater. Squeeze to drain all the water out, then tip onto a clean tea towel and squeeze again to ensure that every drop has been removed. Season with salt and pepper. Split into four and shape each portion into a cake (similar to a fish cake). Set aside.

To make the lamb, brush the loins with oil and season with salt and pepper. Heat a frying pan over a high heat and fry them for 30 seconds on each side, or until browned. Lay the rosemary in a roasting tin, sit the browned lamb on top and roast for 8 minutes. Remove and leave to rest – the lamb will remain pink inside.

To make the gravy, heat the butter in a pan, add the flour and whisk until combined. Gradually whisk in the stock and port and bring to the boil. Add the redcurrant jelly and gravy browning. Simmer until smooth and glossy.

To cook the potato cakes, heat the butter and oil in a frying pan and fry the cakes for about 5–6 minutes on each side, or until golden-brown and crisp.

Add the mint to the gravy just before serving. Carve each loin into four slices on the diagonal. Divide the potato cakes between four plates. Sit two pieces of lamb on top of each potato cake and pour the gravy around the edge. Serve.
This recipe is from...
Recipes from this episode