Cannellini beans two ways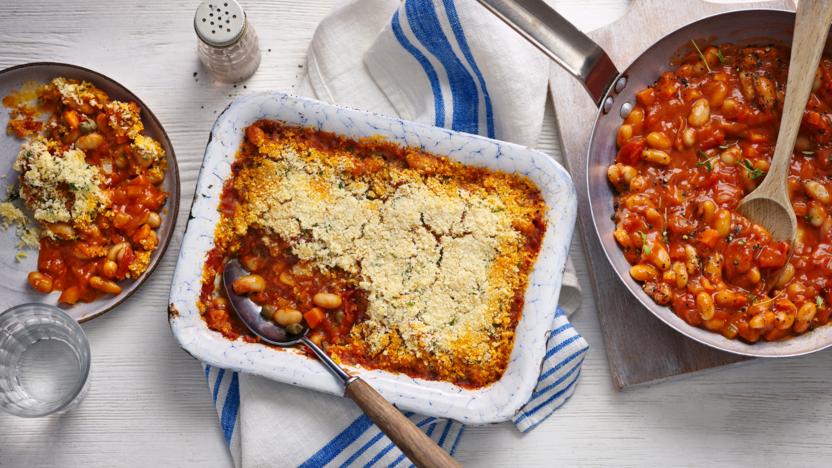 Cannellini beans have a lovely melting texture and go well with Mediterranean flavours. Use the base recipe to make two meals for two people. The amount of olive oil elevates the dish by adding richness and flavour.
Ingredients
For the baked potato
For the Tuscan bean gratin
Method
Heat the oil in a frying pan, add the onion, garlic, celery and carrot. Season with 1 teaspoon of sea salt and fry gently for 10–15 minutes, until soft.

Stir in the tomatoes and beans, plus a splash of red wine and the thyme, if using. Season to taste with the sugar and plenty of black pepper. Bring to the boil, reduce the heat and simmer for 10 minutes, stirring occasionally, until the beans have softened. Taste and adjust the seasoning.

To make Italian beans in a baked potato, preheat the oven to 200C/180C Fan/Gas 6. Pierce the potatoes several times with a skewer. Put them on a baking tray and bake for 1 hour, or until cooked through. Transfer them to serving plates and cut a cross in the centre of each. Add a quarter of the beans to each potato and finish with goats' cheese and a grinding of pepper.

To make the Tuscan bean gratin, preheat the oven to 200C/180C Fan/Gas 6. Mix the breadcrumbs, parsley, garlic and Parmesan together. If using capers, stir them into the beans, then spread the beans in a small shallow ovenproof dish and top with the breadcrumb mixture. Drizzle with olive oil and bake for 20–30 minutes, or until the beans are heated through and the topping has browned. Serve with a green salad.
Recipe Tips
If you want to add meat, fry some chopped chorizo with the onion in step 1 or stir in some finely sliced ham at the end of step 2.