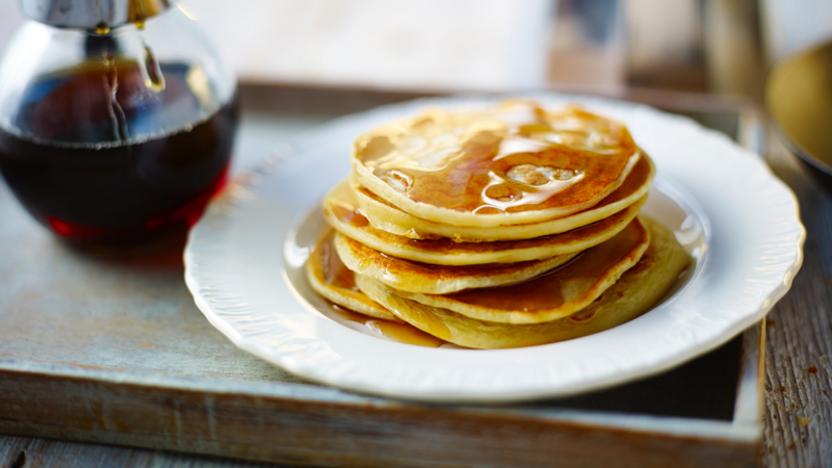 These are the buttermilk pancakes that a certain Madame Lafond made for me when I was in Quebec; delightfully easy but tasting so light and fluffy.
Method
First sieve the flour, baking powder and salt together in a roomy bowl and make a well in the centre. After that, whisk the buttermilk and 3fl oz/75ml cold water together in a jug and gradually whisk this into the bowl, slowly incorporating the flour with each new addition of liquid. Finally, add the eggs a little at a time until you have a smooth batter.

Now place a large, solid frying pan over a medium heat, add 2 teaspoons of the lard and heat it until the fat shimmers. Then, using a tablespoon of batter per pancake, place 2 or 3 spoonfuls into the pan.

They will take about 1 minute to turn golden brown, then turn them over using a spatula and fork, being careful not to splash yourself with the hot fat. Give them another 45 seconds on the other side, by which time they should have puffed up like little soufflés, then briefly rest them on some kitchen paper to absorb any excess fat.

Repeat this with the rest of the batter, adding a little more lard if necessary. They will keep warm in a low oven, but to enjoy them at their best, have everyone seated to eat them as soon as they come out of the pan.
Recipe Tips
This buttermilk pancake recipe tastes great with bacon or blueberries on top.