Camp doughnuts (jam eggy bread)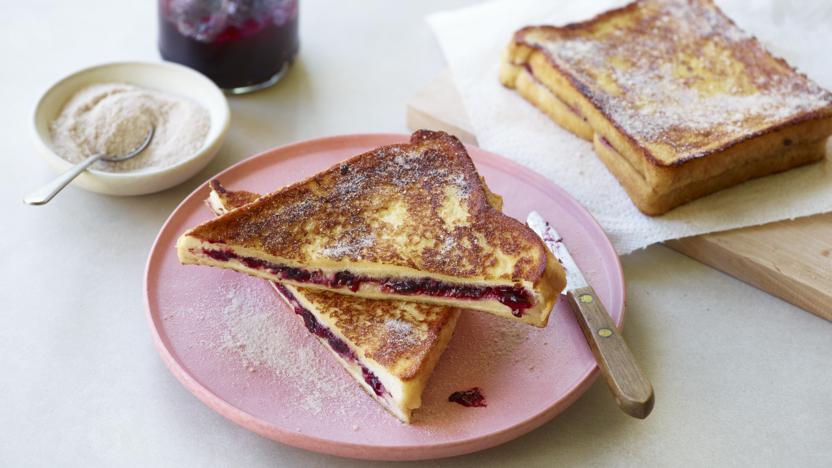 The perfect pud to make when you're by the campfire! This sweet treat is so easy and quick, it can be whipped up at home or by the fireside.



Ingredients
For the cinnamon sugar
Method
Butter two slices of the bread and spread them thickly with the jam. Sandwich with the remaining slices.

Whisk the egg, milk, sugar and vanilla together in a large bowl.

Make the cinnamon sugar by mixing the caster sugar and cinnamon together and scattering over a small baking tray.

Heat 2 teaspoons of the oil and the remaining butter in a large non-stick frying pan over a medium heat. Soak one of the sandwiches in the egg mixture for 8–10 seconds on each side and place gently into the hot pan. Cook for 2-2½ minutes on each side, or until golden-brown and hot through. It's important to do this on a medium heat so the mixture has time to puff up and cook in the middle without burning. Remove the sandwich from the pan and turn in the cinnamon sugar while you repeat the process with the second sandwich.

Cut in half diagonally and put on plates. Serve with whipped cream (see tip below).
Recipe Tips
It's important to use sliced farmhouse or a similar fairly open textured bread for the camp doughnuts, so it absorbs the egg mixture without going soggy.
For an irresistible cream to serve with the 'doughnut', whip double cream with some finely grated orange and lime zest and a little caster sugar until soft and pillowy.
For a great alternative, make the sandwiches with marmalade and add ½ teaspoon of Chinese five-spice powder to the sugar instead of cinnamon.
This recipe is from...
Recipes from this episode