Calf's liver with roasted onion purée and confit potato chips
Liver, bacon and chips like you've never seen it before! You'll need to get started on the confit fried chips for this bistro-style recipe the night before.



Ingredients
For the confit fried chips
For the onion purée
For the calf's liver
To garnish
Method
To make the confit chips, preheat the oven to 170C/150C/Gas 5.

Toss the thinly sliced potatoes in the duck (or goose) fat with the thyme and the garlic in a large bowl.

Line a small, individual ramekin with greaseproof paper – you may need to use two ramekins depending on the size. Layer the potatoes into the prepared ramekin(s). Cover in foil and bake for 2 hours. Remove from the oven, cool and leave to firm up in the fridge overnight.

To make the onion purée, preheat the oven to 200C/180C Fan/Gas 6.

Mix the oil with the thyme, bay leaf and salt and pepper. Toss the onions in the seasoned oil on a baking tray. Roast the onions until charred and golden-brown, about 30–40 minutes. Remove, cool slightly and tip into a blender. Blend until smooth. Pass through a fine sieve to make the purée even smoother (if liked). Taste and season with more salt and pepper.

To make the calf's liver, warm the butter and sage in a pan until the butter is frothing and golden-brown. Pat the liver in the seasoned flour and dust off. Put the liver in the hot pan and fry for a minute or 2 on both sides. Remove the liver to a warm plate, cover and keep warm.

Immediately add the vinegar and then the stock to the pan and cook to reduce to a sauce consistency. Season with salt and pepper.

To make the garnish, fry the pancetta until very crisp. Drain on kitchen paper and once cool, blend in a food processor to make crumbs. Set aside.

To cook the chips, remove the potatoes from the ramekin(s) and cut into quarters or in half depending on the size.

Heat the oil in a deep fat fryer to 180C (CAUTION: hot oil can be dangerous. Do not leave unattended). Deep-fry the confit chips until crisp and golden-brown. Drain on kitchen paper and sprinkle with sea salt and malt vinegar.

To serve, slice the liver. Mix together the pancetta crumb with the parsley and shallot. Spoon some onion purée onto 2 dishes, add the crisp potatoes, and the liver and garnish with the pancetta crumb.
This recipe is from...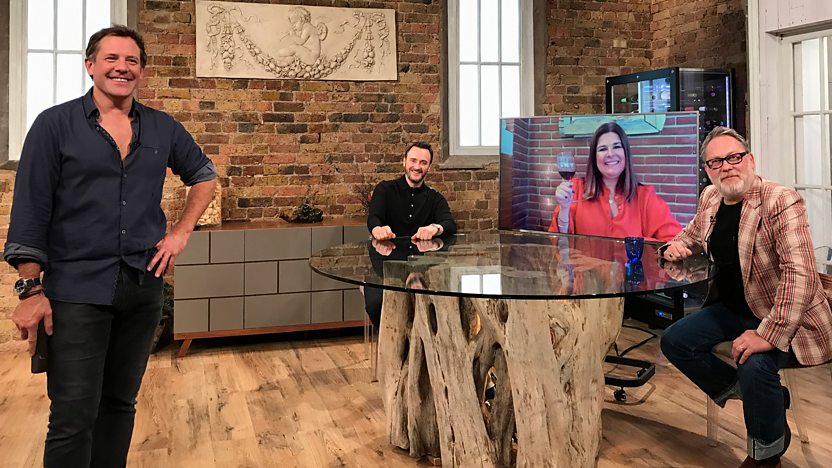 Saturday Kitchen
10/10/2020