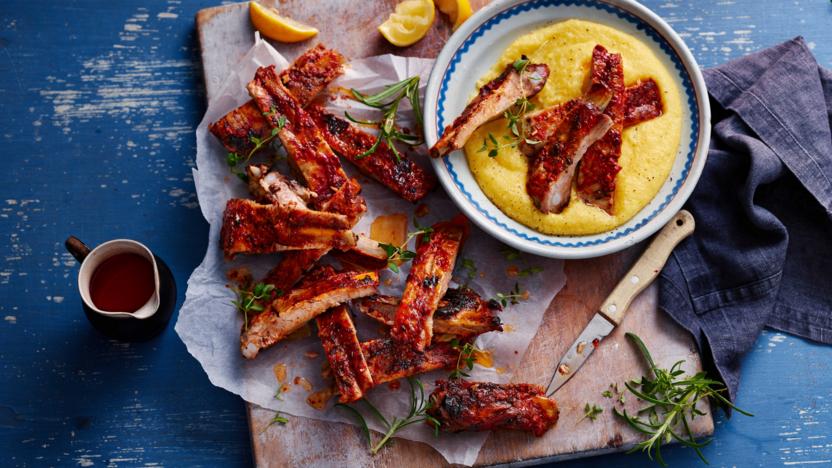 This flavoursome pork rib roast is cut from pork belly still on the bone. Perfect for marinating and then cooking low and slow before a quick grill or go on the barbecue.


Ingredients
For the marinade
To serve
Method
Preheat the oven to 140C/Fan 120C/Gas 1.

Put all the ingredients, except the pork, into a blender and blend until fairly smooth.

Line a roasting tin with foil, making sure there is enough foil hanging over the sides to fold into a parcel. Place the pork on top of the foil and pour over the marinade, turning over to make sure it is completely covered.

Bring the foil together to make a parcel then put in the oven. Bake for between 2–3 hours, making sure you check after 2 hours – the meat should be cooked through and tender but nowhere near falling off the bone.

Cook the polenta according to packet instructions and season well.

Remove from the oven and transfer to a chopping board. Pouring off any cooking juices and transfer to a small saucepan. When the ribs are cool enough to handle, cut into individual ribs – it is easier to follow the bone by turning bone side up.

To finish cooking, either prepare a barbecue, preheat your grill or heat a griddle pan until it is too hot to hold your hand over. Grill or griddle the ribs until well browned and nicely charred in places – this should take 3–4 minutes on each side.

Reheat the pan juices and serve on the side with the ribs, along with lemon wedges and polenta.
This recipe is from...
Recipes from this episode