Buñuelos with spiced guava syrup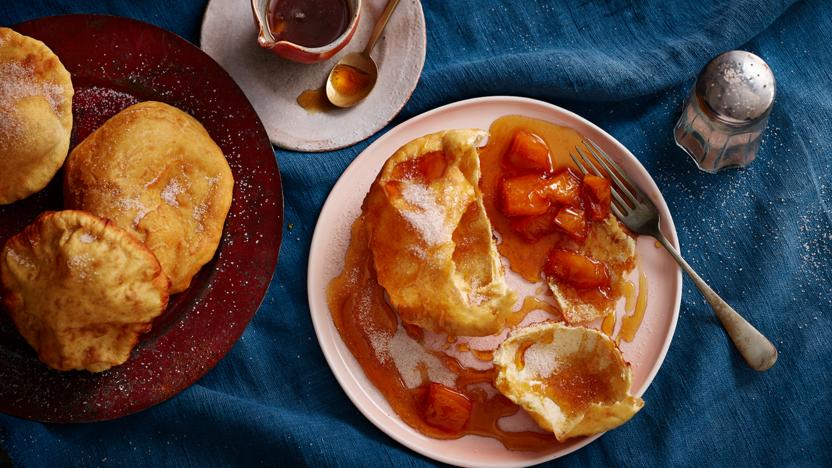 Buñuelos occur in many different forms all over Spain and Latin America and traditionally the flat ones were shaped over your knee. These days they arrive at the stands ready-fried. When you order, they're crushed into a bowl and hot cinnamon and guava-flavoured syrup is poured over the top.
Ingredients
For the buñuelos
For the guava or mango syrup
Method
For the buñuelos, put all the dry ingredients in a large bowl and make a well in the centre. Crack the egg into the centre with the vanilla and melted butter. Rub with your fingers until the mixture resembles coarse breadcrumbs. Slowly add 125–150ml tepid water, a quarter at a time, and mix into a smooth dough. Turn onto a lightly floured surface and knead for 5 minutes. Cover with a tea towel and leave to rest for 30 minutes.

Meanwhile, to make the fruit syrup, place all the ingredients, apart from the cornflour and guava (or mango), in a large saucepan with 1 litre/1¾ pints of water. Stir until the sugar dissolves, then bring to the boil and simmer for 20 minutes, until thickened.

Mix the cornflour with 1 tablespoon of water to make a paste. Stir into the syrup, add the guava (or mango) and cook over a medium heat, stirring occassionally, for 15 minutes until the syrup is thick and the fruit tender.

Heat the oil in a deep frying pan to 190C or until a cube of bread browns in 30 seconds (CAUTION: hot oil can be dangerous. Do not leave unattended).

Divide the dough into 8 equal balls and roll each one into a 2mm-thick round (like a tortilla) on a lightly floured surface. Make sure they will fit your frying pan.

Fry until golden-brown and crisp on one side, then flip it over and cook the other side. Drain on kitchen paper and sprinkle with cinnamon sugar. Repeat with the remaining buñuelos.

Break up the buñuelos and place equally between eight bowls. Ladle over some of the fruit syrup and serve.
This recipe is from...
Recipes from this episode