Buñuelos with apple and raspberry purée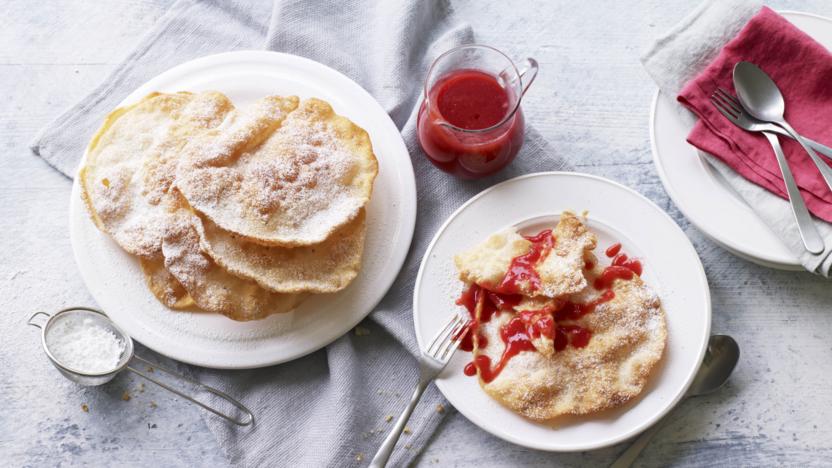 Ingredients
For the apple and raspberry coulis
Method
Sift the flour into a large bowl and then sift it once more, to make sure it's very fine. Stir in the caster sugar, baking powder and salt.

In a small bowl, whisk the milk, egg and anise together until light and frothy.

Make a well in the flour and slowly whisk in the egg mixture. Use your hands to create a rough dough and knead on a lightly floured surface until smooth. Shape into 16 small balls, cover and leave to rest for 20 minutes.

Meanwhile, to make the coulis, place all the ingredients in a saucepan over a low heat and cook for 5 minutes, or until soft. Blend using a food processor, then pass through a sieve into a bowl.

Using a rolling pin, roll the dough balls out on a lightly floured surface into very thin rounds and leave to rest for 5 minutes.

Heat a deep-fryer to 170C, or until a crumb of bread browns in 30 seconds (CAUTION: hot oil can be dangerous. Do not leave unattended). Fry the buñuelos one at a time, turning halfway through, until puffed and golden. Drain well on kitchen paper and sprinkle with icing sugar. Serve two buñuelos per person with the coulis.