Butternut squash curry with cauliflower 'rice'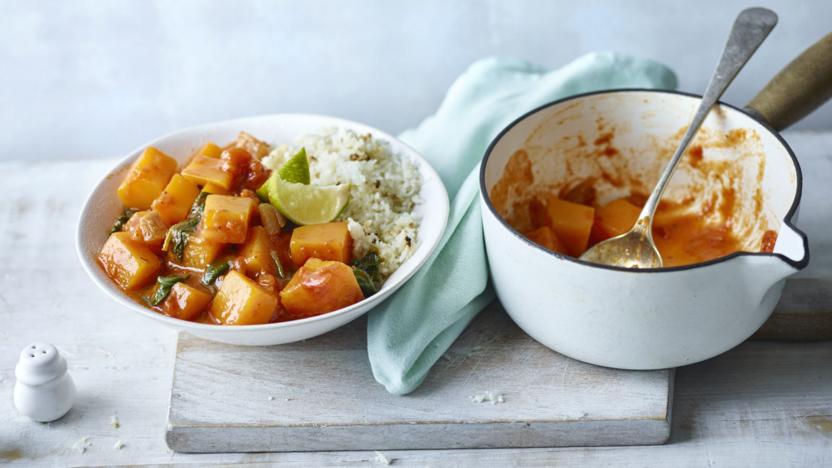 Vegetable curry is a good choice when you're on a diet because vegetables are so low in calories, which means you can have a generous portion. This very low-calorie dish provides three of your five-a-day. It's also vegan.

Each serving provides 300 kcal,11g protein, 40g carbohydrate (of which 27g sugars), 8g fat (of which 0.5g saturates), 12.5g fibre and 1.3g salt.
Ingredients
For the cauliflower 'rice'
For the curry
Method
To make the cauliflower 'rice', preheat the oven to 200C/180C Fan/Gas 6. Pulse the cauliflower in a food processor for 30 seconds, or until finely chopped (it should have the same texture as couscous). Mix in the olive oil and season to taste. Scatter the mixture onto a baking tray and bake for 15 minutes.

To make the curry, heat the rapeseed oil in a small, deep saucepan. Add the onion and cook gently for 2–3 minutes. Add the butternut squash, garlic and curry paste and cook for 2–3 minutes.

Add the tomatoes and stock, bring to the boil, then reduce the heat. Cover and simmer for 15 minutes, stirring occasionally. Remove the lid and simmer for a further 10 minutes.

Stir in the baby spinach, then cover and cook until wilted. Season to taste with salt and pepper. Serve the curry with the 'rice'.
Recipe Tips
For a 400-calorie version of this curry, replace the cauliflower 'rice' with 40g/1½oz dried basmati rice (cooked according to the manufacturer's instructions). Ready-prepared curry pastes vary considerably in fat content; choose one with less than 7g fat per 100g.