Butternut squash and sweet potato curry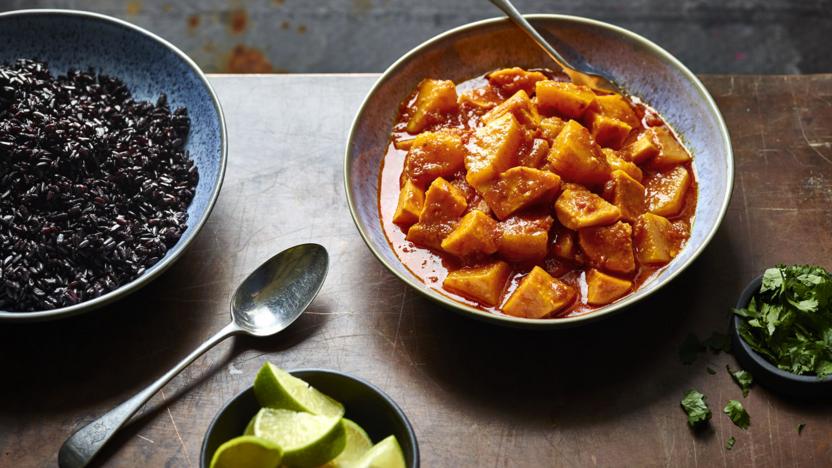 This is a rambunctiously vibrant vegan curry, both to look at and eat. It is rich, sweet and hearty, with tomatoes providing a balancing acidity and the curry paste bringing uncompromising fire. Of course chillies do vary in heat, so if you're after something a little less passage-clearing, use two rather than three, and if you want to go milder still, simply de-seed the chillies. Having said that, cooking with chillies always has a touch of roulette about it.
Method
Put the onion, chillies, ginger, garlic, turmeric, ground coriander, cinnamon and salt into a food processor and blend to a paste, or use a stick blender and a bowl.

Heat the coconut or vegetable oil in a wide lidded heavy-based casserole, then fry the paste for about 1 minute, stirring well. Don't use a wooden spoon unless you don't mind it being stained by the turmeric.

Open the tin of coconut milk carefully and then scrape off the creamy top into the paste, stirring everything together over the heat for another minute or so before adding the rest of the tin of coconut milk, followed by the stock, tinned tomatoes, then the sweet potato and squash. Stir well, bring to the boil and, once bubbling, turn down the heat, put the lid on and simmer for 40–50 minutes (though start checking at 30) until the sweet potatoes are soft and the squash cooked through. Check for seasoning, then leave to stand off the heat for 10 minutes or so before serving.

Meanwhile, cook the rice according to packet instructions.

Serve with the rice and put chopped coriander and lime wedges on the table alongside, for sprinkling and spritzing.
Recipe Tips
I like the drama of black Venus rice with this, but by all means serve any rice you want alongside.
While I have indicated to add the creamy top bit of the coconut milk first, I have to say that I all too often, not paying attention, open the tin upside down, so don't worry too much about it, but still add just a little of the coconut milk first, stirring it into the pan with the paste, before pouring in the rest.
This recipe is from...
Recipes from this episode