Buttermilk pound cake with Pimm's-soaked fruits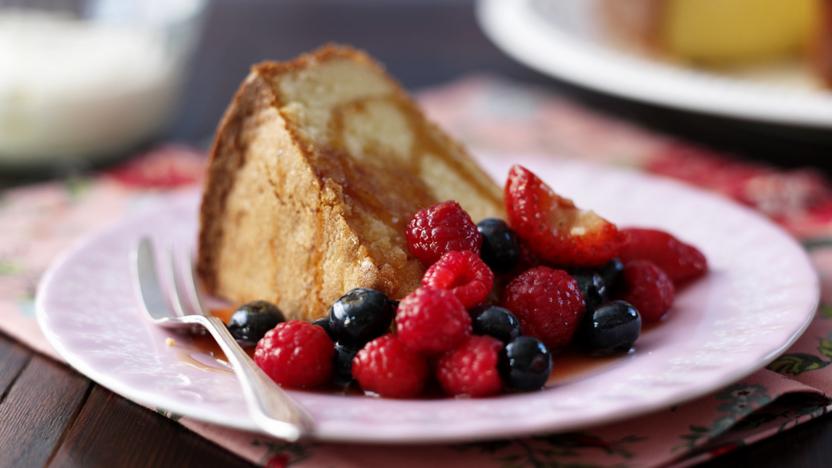 A recipe for Pimm's that will last beyond the summer. This easy pound cake enjoys a side order of boozy berries.
Ingredients
For the Pimm's-soaked fruits
For the buttermilk pound cake
Method
For the Pimm's-soaked fruits, place the Pimm's, vanilla pod and sugar into a pan and bring to the boil. Boil for 6-8 minutes, or until reduced to make a syrup.

Remove from the heat and allow to cool slightly. Place the fruit in a bowl then pour the syrup over the fruit.

Preheat the oven to 165C/325F/Gas 3.

For the buttermilk cake, sift the flour, baking powder, sugar and salt into a large bowl.

Place the butter into a separate bowl and beat in the eggs, one at a time. Add the vanilla seeds and lemon zest and mix well.

Add the buttermilk to the mixture, then pour this mixture into the flour mixture and fold together.

Grease and line a 22cm/9in springform cake tin. Pour the cake mixture into the tin.

Transfer to the oven and bake for about 1½hours, or until golden-brown and a skewer inserted into the cake comes out clean. Allow to cool slightly in the tin, then turn out onto a cooling rack to cool completely.

To serve, cut the cake into wedges and serve with a dollop of clotted cream and a spoonful of the Pimm's-soaked fruits.