Mexican fish with refried beans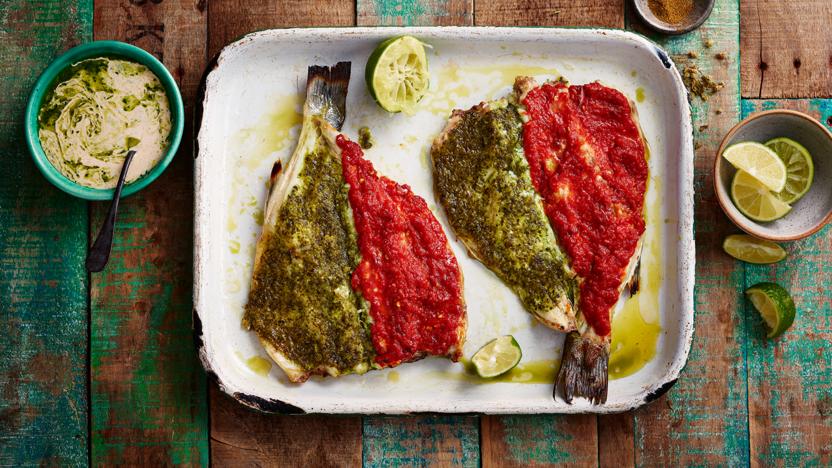 You've got to love this dish, which is a butterflied fish with salsa verde on one side and salsa rojo on the other. If served on a white plate it makes the Mexican flag, less the plumed serpent in the middle.
Ingredients
For the salsa verde (green sauce)
For the salsa rojo (red sauce)
For the refried beans
For the sauce
Method
To make the salsa verde, place the coriander, chives, garlic, oil, salt, 1 teaspoon lime juice and the chilli in a blender and blend into a smooth sauce. Add more oil if necessary to loosen the mixture. Set aside.

For the chili rojo, toast the chillies for 10 seconds in a hot dry frying pan over a high heat. Place them in a bowl of boiling water and leave to soften for 20 minutes. Drain reserving the liquid.

Char the tomato in the same frying pan over a high heat, until it starts to soften. Cut it into quarters when cool enough to handle and set aside.

Add the oil to the pan and fry the onion and garlic until softened. Add the tomato, softened chillies, oregano and cumin and cook for 5 minutes. Put the mixture into a blender with 75ml/5 tablespoons of the chilli soaking liquid. Season with salt and blend until smooth. Add more liquid if necessary to loosen the mixture.

Preheat your grill to a medium heat.

Coat the flesh of one of half of each bass with salsa verde, reserving at least 1 tablespoon for the sauce, coat the other half of each with all of the salsa rojo. Grill skin-side down for 5 minutes or until the internal temperature reaches 60–62C.

Meanwhile, to make the refried beans, melt the lard in a frying pan and sweat the onion until soft and golden. Add the garlic and chilli for 2–3 minutes until softened. Depending on how textured you like your refried beans, either use a potato masher to mash your beans in a bowl with their liquor or whizz them with a blender or stick blender for a smoother result. Add the beans to the pan with the fried onions and cook over a medium heat with the epazote or oregano and the salt until the mixture reaches your desired consistency. It's better to keep it on the looser side as it will firm up considerably as it cools.

Mix the soured cream with the mayonnaise, a tablespoon of salsa verde and a squeeze of lime juice. Serve alongside the fish and beans.