Butter bean and kale cannelloni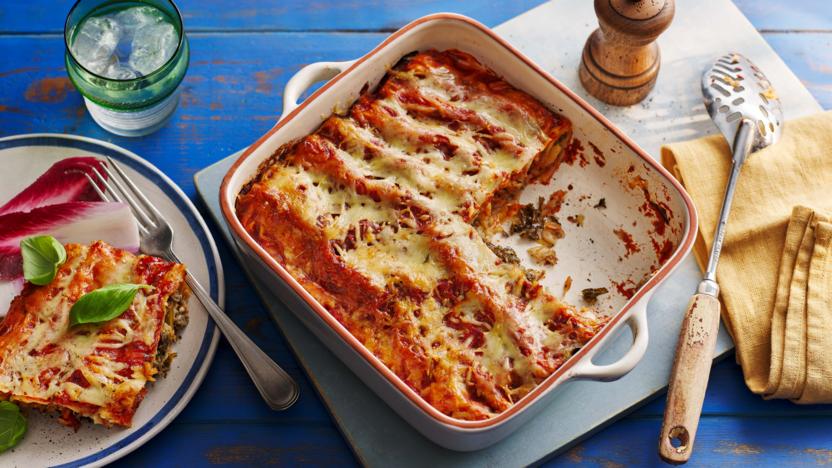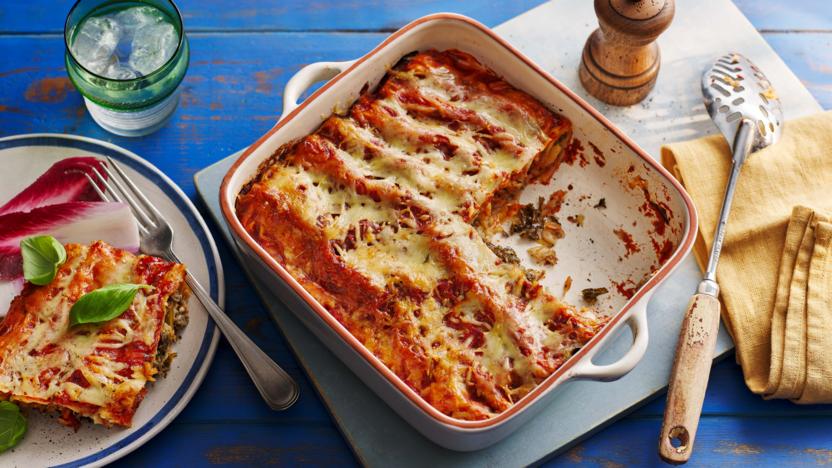 This vegan pasta bake is delicious and nutritious thanks to a mushroom, butter bean and kale filling, all packed into cannelloni tubes and baked in rich tomato passata.

Each serving provides 527 kcal, 19g protein, 79g carbohydrates (of which 13g sugars), 12g fat (of which 4g saturates), 13g fibre and 0.5g salt.
Ingredients
1 tbsp olive oil, plus extra for drizzling
1 onion, finely chopped
3 garlic cloves, crushed
200g/7oz chestnut mushrooms, finely chopped
150g/5½oz kale, shredded
1 x 400g/14oz tin butter beans, drained and patted dry
handful fresh basil, 5–6 leaves retained, the rest roughly chopped, stems finely chopped
1 lemon, zest and juice
50g/1¾oz vegan cream cheese
50g/1¾oz vegan Parmesan or cheddar-style cheese, finely grated
20–25 dried cannelloni pasta shells
700ml/1¼ pint tomato passata
salt and ground black pepper
Method
Preheat the oven to 180C/160C Fan/Gas 4.

Heat the olive oil in a non-stick frying pan over a medium heat. When hot, add the onion, garlic and mushrooms. Season with salt and pepper and fry gently for 4–5 minutes.

Add the kale to the pan and cook for 2–3 minutes until starting to wilt and soften. Remove the pan from the heat and set aside to cool slightly.

Crush the butter beans with your hands into a large mixing bowl and add the onion, kale and mushroom mixture, basil leaves and stems, lemon zest and juice, vegan cream cheese and half the vegan hard cheese. Season again, to taste, with salt and pepper.

Transfer the filling mixture to a reusable piping bag and pipe the mixture into the cannelloni shells.

Add a third of the tomato passata to the bottom of a baking dish. Place the filled cannelloni shells on top, then pour over the remaining passata. Dot the whole basil leaves and top with the remaining grated cheese. Drizzle with a little olive oil, season with salt and pepper, then bake for 30–35 minutes.

Once baked, serve the cannelloni straight away.
Recipe Tips
If you can't find cannelloni, you can make this dish as a normal pasta bake. Leave the butter beans whole, and chop the mushrooms less finely. Then, mix it all into the passata and pour over cooked pasta. Scatter the vegan cheese on top and bake as above.