Butter-roasted halibut with charred white asparagus
This gorgeous pan-roasted halibut is perfect if you're planning a special dinner for 2.
Ingredients
For the butter sauce
For the halibut
For the vegetables
To serve
Method
To make the butter sauce, heat a little of the butter in a saucepan and sweat the shallots and garlic for 5 minutes. Pour in the stock, then add the butter a cube at a time, whisking constantly to emulsify the two. Keep going until all of the butter is incorporated and the sauce is smooth.

To make the halibut, lightly salt the halibut fillet with the kosher salt. Heat the oil in a small nonstick frying pan until smoking hot and place the fish in the pan, presentation side down. When the fish is golden, add the butter to the pan and foam the butter until it turns golden brown, then flip the fish over and baste in the butter for approximately 1 minute. Remove the fish from the pan and leave to rest.

To make the garnish, you'll need to make a butter emulsion. Bring 250ml/9fl oz of water to the boil in a small saucepan and add the butter. Blend with a hand blender until the mixture is emulsified. Add the lemon verbena and leave to infuse for a couple of minutes.

Cook the white asparagus in the emulsion for 2–3 minutes until tender, then blowtorch the cut sides until lightly charred. Cut the asparagus on the diagonal and reserve until ready to plate.

Dip the courgette ribbons briefly in the emulsion, then remove and set aside until ready to plate.

To serve, place the fish of the right-hand side of the plate and season with some rock salt. Start to build up the garnish on the other side of the plate, interlacing the waves of the courgette ribbons with the white asparagus to create height and colour contrast. Finish off with fresh herbs and flowers. Pour the sauce over the garnish and then finish with the wild garlic oil. Serve immediately.
This recipe is from...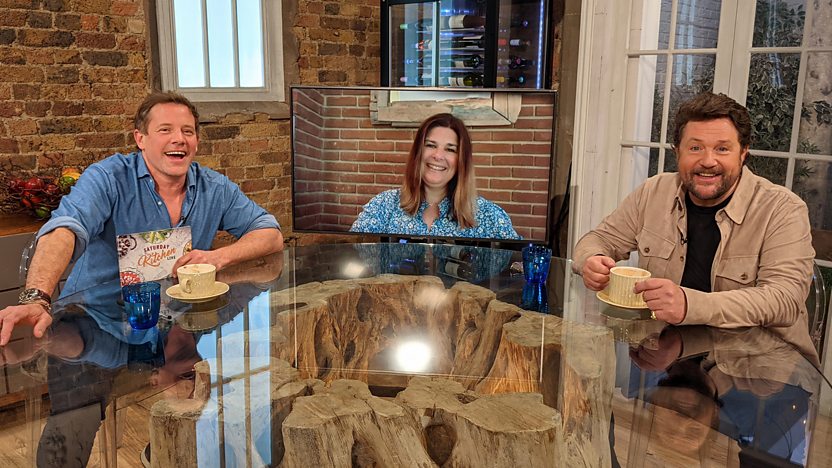 Saturday Kitchen
29/05/2021
Recipes from this episode