Butter-poached eggs with spinach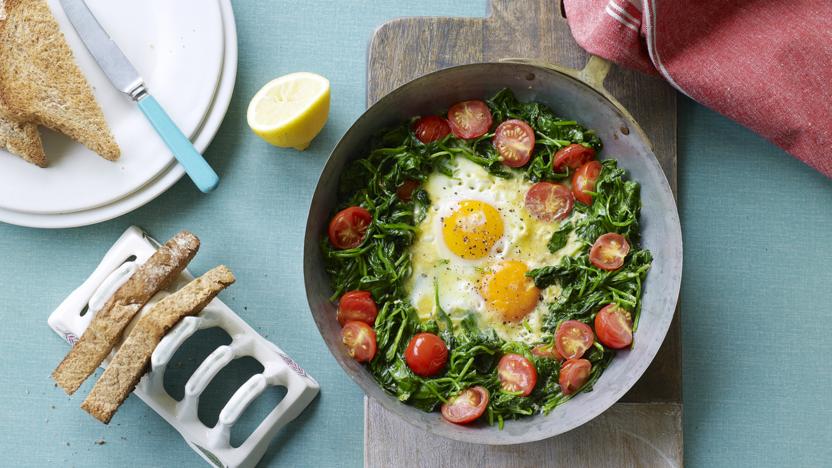 This great technique of steam-poaching, using the juices from vegetables and a little butter, is easy to adapt to what's around or in season, and is useful for a fridge-foraging lunch or supper as well as a healthy big breakfast. This is a high-protein breakfast that will really fill you up, but as it is quite high in calories it should be paired with lower calorie lunch and/or dinner on a diet day.

Each serving provides 457 kcal, 23g protein, 42g carbohydrates (of which 5g sugars), 20g fat (of which 8g saturates), 9g fibre and 1.6g salt.
Method
Melt three-quarters the butter with the oil in a small frying pan over a medium heat. Add the spinach and tomatoes and season. Stir, cover with a lid, turn down the heat and cook for 2–3 minutes, or until the spinach has wilted.

Push the vegetables around the edge of the pan into a wide ring with a gap in the middle for the eggs, like a nest.

Melt the remaining butter in the centre of the pan and let it mix with some of the juices that have come out of the vegetables. Break the eggs into the middle. Cover and cook until the eggs are done to your liking (3–4 minutes for a runny yolk and 5–6 minutes for firm).

Meanwhile, toast the bread on both sides.

Season the egg and squeeze over the lemon juice. Serve immediately with the toast.