Buffalo kebabs with cauliflower coleslaw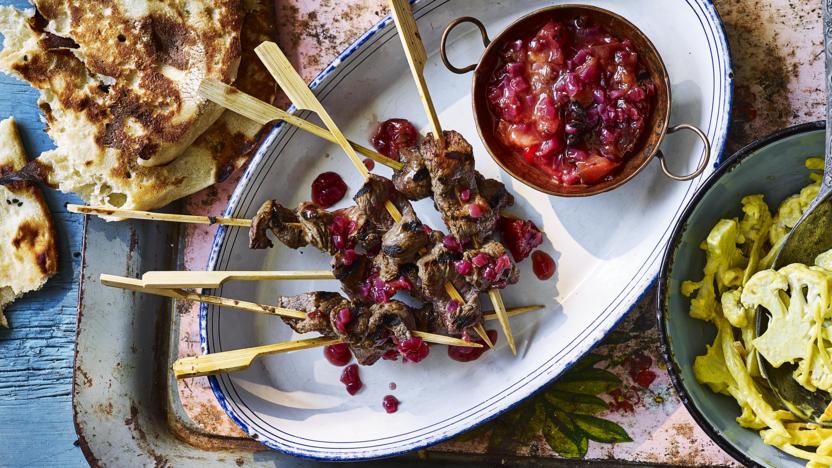 Traditionally these kebabs are made with buffalo, but beef sirloin also works well. They are best cooked on a barbecue, but if the weather fails you try cooking them under a hot grill instead.

For this recipe you need wooden skewers pre-soaked in water.
Ingredients
For the marinade
For the coleslaw
Method
Preheat a barbecue and leave the coals to heat through for about an hour.

For the marinade, heat the oil in a saucepan and, once hot, add the onion and cook for 5 minutes until softened. Add the rest of the ingredients apart from the buffalo and bring slowly to the boil. Simmer for about 10 minutes until the plums have softened.

Set aside about a quarter of the marinade and leave to cool. Pour the remainder into a serving bowl.

When the smaller amount of sauce has cooled, pour it over the raw meat and mix well. Leave to marinate for 20 minutes.

For the coleslaw, put the egg yolks in a bowl then add the lemon juice, asotefedia, turmeric and vinegar. Whisk until well combined and then add the oil in a thin stream, whisking all the time. Add the oil slowly, making sure each addition is well combined before adding the next. Continue whisking and slowly adding more oil until emulsified into a loose mayonnaise (you may not need all the oil).

Place all the vegetables in a large bowl. Tip over the mayonnaise and mix well.

Thread the beef onto skewers. When the barbecue coals are white hot and the flames have died down, cook the beef for about 2 minutes on each side, or until cooked through and lightly charred.

Serve up the skewers along with the reserved marinade, coleslaw and flatbreads.
Recipe Tips
In the original recipe Nadiya used mustard oil in the marinade and coleslaw (instead of vegetable oil and mustard powder). Mustard oil cannot be sold in the UK for human consumption, though it is widely used in Asian cooking.
This recipe is from...
Recipes from this episode