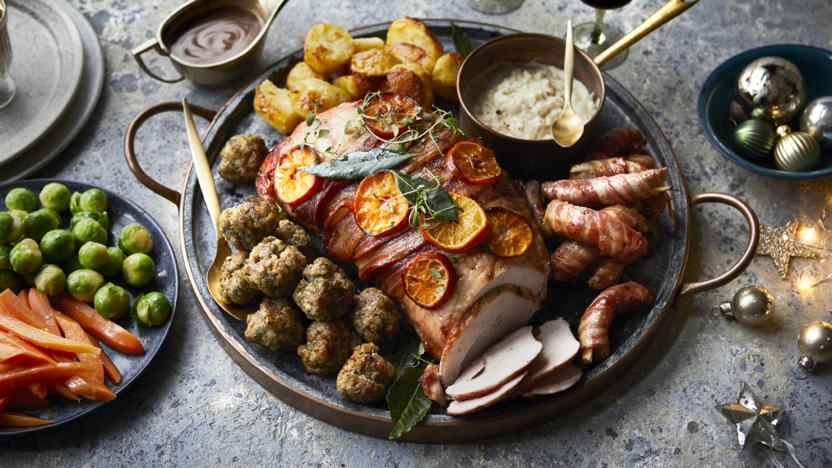 A brilliantly simple and quick roast turkey with trimmings. Frozen turkey breast joints are fantastic value and cut back on waste. Make it extra special with sliced clementine and thyme and serve with a rich red wine gravy.


Ingredients
For the gravy
To serve
Method
Preheat the oven to 190C/170C Fan/Gas 5. Pour the oil into a sturdy roasting tin. Place the turkey joint in a roasting tin. Season with a little salt and plenty of freshly ground black pepper.

Sprinkle with the thyme leaves. Top with the bacon and sliced clementine or satsuma. Dot with the butter and cover tightly with a piece of kitchen foil. Roast for 1 hour.

Remove the foil, increase the oven temperature to 200C/180C/Fan 6 and continue cooking for a further 40 minutes, or until the bacon is crisp and the turkey is thoroughly cooked through.

Transfer the turkey to a warmed platter. Cover with foil and a tea towel and leave to rest for 15 minutes.

For the gravy, put the roasting tin on the hob over medium heat and stir in the flour. Add the wine and cook for 15–20 seconds, stirring constantly.

Gradually add the stock, stirring all the time. Bring the liquid to a simmer, stir in the redcurrant jelly and cook for 2 minutes, or until thickened and glossy. Season to taste, strain carefully (the tin will be extremely hot) through a sieve into a saucepan, add any juices that have released from the turkey as it has rested and keep warm until ready to serve.

Boil the carrots and Brussels sprouts in separate pans of boiling water. Once cooked to your liking, drain and toss with the butter and plenty of salt and freshly ground black pepper.

Garnish the turkey with bay leaves and fresh thyme sprigs. Carve into slices and serve with the hot gravy and vegetables.
Recipe Tips
Make sure the turkey breast is thoroughly defrosted before cooking, this will take about 2 days in the fridge.