Cheese and mushroom buckwheat pancakes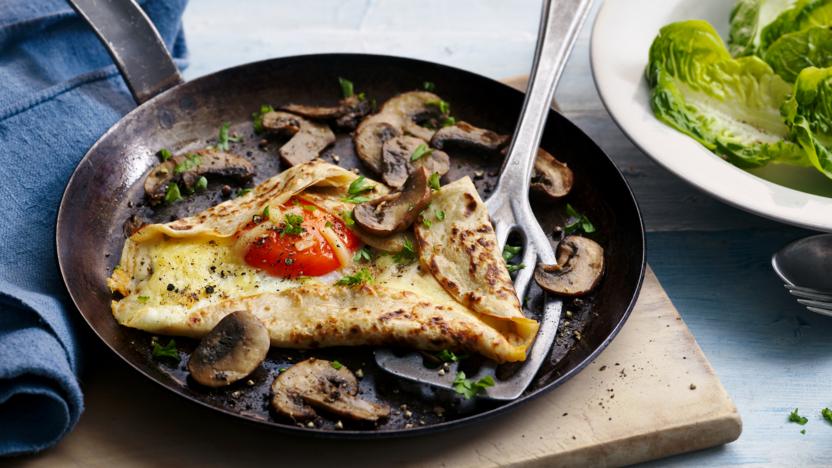 This recipe comes from the town of Salers, famous for its cheese. Salers cheese is similar to Cantal but is made only from the milk of the cows grazing on its mountain pastures in the summer. The town itself is extraordinary. No part of France is really that secret, but when I arrived in Salers on a sunny morning it felt like I'd just landed somewhere in Ruritania. For lunch, we all ordered these hearty, yeasted pancakes.
Ingredients
For the batter
For the filling
Method
For the batter, put the buckwheat and plain flours into a bowl and add the salt and dried yeast. Make a well in the centre, break in the egg and whisk the egg into the flour. Whisk in the milk and warm water to make a smooth batter. Cover and leave in a warm place to allow the batter to rise for an hour or so – it should be frothy and sweet-smelling.

For the filling, fry the mushrooms in the oil and butter until softened and set aside.

Preheat the oven to its lowest setting.

Heat a 26–28cm/10½–11in non-stick frying pan and wipe it with a little rapeseed oil. Stir the batter to make sure it is well combined.

Pour in enough of the batter to coat the base of the pan and cook the pancake over a medium–high heat for 2–3 minutes until it is golden-brown and easily releases from the pan. Flip the pancake over – be careful as it can be fragile. Break an egg into the centre of the pancake and surround it with a quarter of the cheese. Cook until the white has set and then create a square by folding in the edges of the circle, leaving the centre open. Scatter a quarter of the mushrooms over the egg and cheese.

Slide the pancake on to a large baking sheet and keep it warm in the oven while you make the rest of the pancakes. Season the pancakes with pepper and garnish with the parsley. Serve with a fresh green salad or wilted spinach.
This recipe is from...
Recipes from this episode