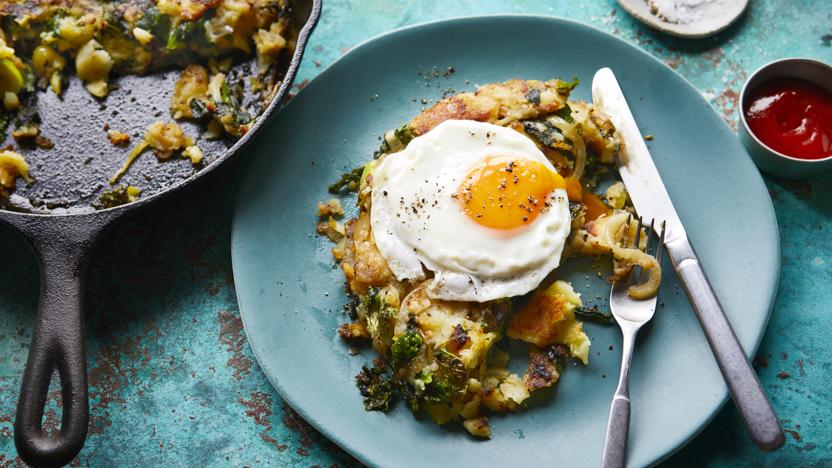 The perfect way to use up leftover veg – you can use scooped-out baked potato, mash or crushed roast or fried potatoes for this super-simple bubble and squeak. Top with fried eggs and a dash of chilli sauce for a seriously satisfying brunch or supper.
Method
Heat the teaspoon of oil and the butter in a non-stick pan. Fry the onion until slightly softened, then add the vegetables and potatoes. Season well with salt and pepper and add the herbs, if using.

Break the potatoes and vegetables up and fry undisturbed for 2–3 minutes to allow a golden brown crust to form on the bottom of the veg, then turn them over and leave to brown on the other side – keep doing this for about 15 minutes.

Use a potato masher to press the mixture into the pan to create a big potato cake, then slide out or upturn the pan onto a serving plate. Cover and keep warm, while you fry the eggs.

In the same pan, heat a little more oil. Break in the eggs and fry to your liking. Slice the bubble and squeak into wedges and top with the fried eggs to serve.
Recipe Tips
This is delicious with some chilli sauce.
If using dried herbs, you will only need 2 teaspoons.