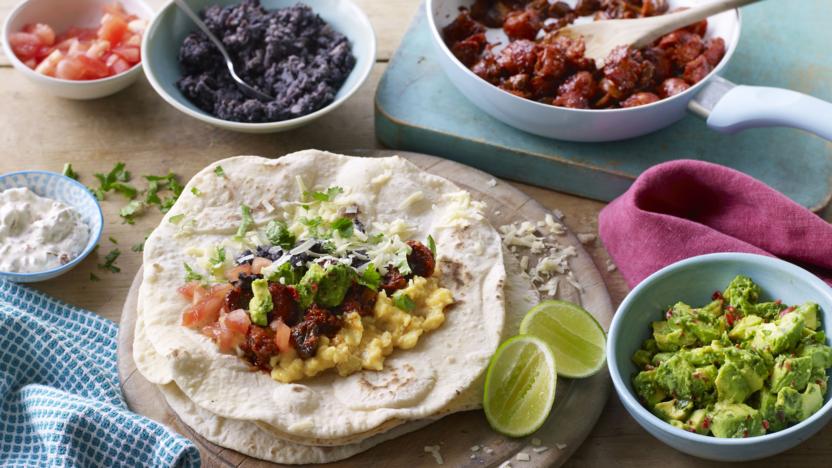 Breakfast burritos are brilliant for breakfast, lunch or dinner. Make the beans ahead and the rest takes minutes.
Ingredients
For the refried beans
For the tortillas
For the salsa
For the guacamole
For the soured cream sauce
For the chorizo filling
For the eggs
Method
To make the refried beans, drain the beans, put them in a saucepan and cover with water. Add the onion halves and ancho chilli and simmer for 45–50 minutes, or until tender. Alternatively, use a pressure cooker and cook for 20 minutes.

Meanwhile, to make the tortillas, mix the flour, cornmeal, baking powder and ½ teaspoon salt together in a large bowl. Pour in the warm water a little at a time and mix until you have a stiff dough. Knead on a lightly floured surface for 2–3 minutes. Divide into four and shape each piece into a ball. Cover with cling film and leave to stand for 50 minutes.

To make the salsa, put the tomatoes in a bowl with the sugar, lime juice and a pinch of salt and mix well.

To make the guacamole, put the avocados, chilli and coriander in a bowl and mix well. Stir in the lime juice and oil, season with salt and pepper and mix again.

To make the soured cream sauce, put the sundried tomato, jalapeño and soured cream in a bowl and mix to a paste.

For the refried beans, drain the cooked beans, reserving the liquid, and mash in the pan with the garlic. Melt the lard in a large frying pan over a medium heat and fry the beans for 4–5 minutes. Mix some of the reserved cooking liquid into the beans to achieve a thick, spreadable consistency. Season to taste.

To make the chorizo filling, heat the oil in a frying pan over a high heat and fry the chorizo for 2–3 minutes. Add the mushrooms and fry until both are cooked. Add enough chipotle sauce to cover the ingredients.

For the tortillas, roll out each dough ball on a lightly floured surface into a tortilla shape. Place a griddle pan over a high heat and, when hot, cook the first tortilla. When one side has blistered, turn it over and cook for 2 minutes more. Cook the remaining tortillas in the same way. Wrap the cooked tortillas in a cloth to keep warm.

Just before serving, make the scrambled eggs by melting the butter in a saucepan over a medium heat. Crack in the eggs and cook, stirring continuously. After 1–2 minutes, when the eggs are still slightly runny, remove from the heat. Season with salt and pepper, then transfer to a serving dish to finish cooking in their own heat.

Serve the scrambled eggs with the warm chorizo, refried beans, soured cream sauce, guacamole, salsa, Cheddar and warm tortillas and let everyone build their own burrito.
Recipe Tips
To make these breakfast burritos vegetarian, leave out the chorizo and replace the lard with butter.