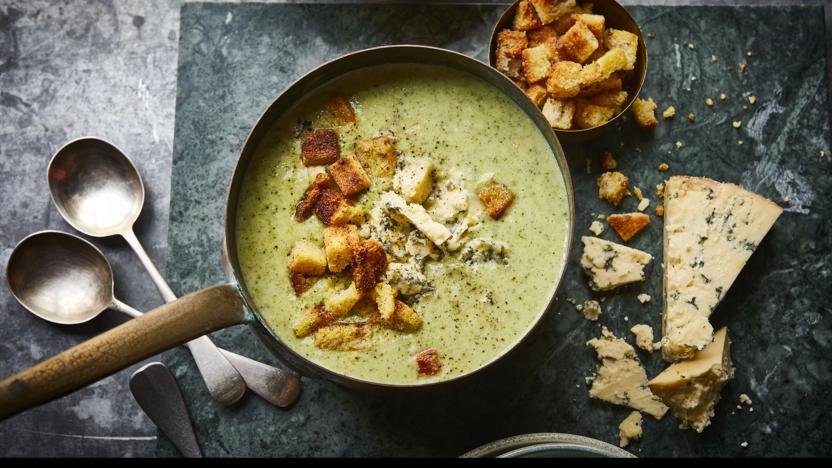 Broccoli and blue cheese soup is classic British cooking, and especially good for using up any leftover cheese from Christmas.

Based on six portions without the optional toppings, each serving provides 227 kcals, 11g protein, 10g carbohydrates (of which 5g sugars) 15g fat (of which 9g saturates), 4g fibre and 0.6g salt.
Ingredients
To serve (optional)
Method
Heat the olive oil and butter in a large saucepan over a low heat. Gently fry the onion, leek and garlic, stirring from time to time to make sure they cook evenly, for about 10 minutes or until the onion and garlic have softened.

Add the potato and broccoli stalk to the pan and cook for a couple of minutes before adding the stock and bay leaf. Season generously with salt and freshly ground black pepper, half cover the pan with a lid and bring to a very gentle simmer. Continue to simmer the soup for about 20 minutes until the potato and broccoli stalks are tender.

Remove the bay leaf and add the remaining chopped broccoli and milk to the pan. Stir well and continue to cook for another 3–5 minutes until the broccoli is tender. This timing will depend on the size of your broccoli pieces – be careful not to overcook the broccoli, it should still retain its vibrant green colour. Add the cheddar, stir to combine and then blend the soup until smooth using a stick blender.

Taste and add more seasoning, if needed, before spooning into bowls and topping with crisp croûtons and crumbled blue cheese.
Recipe Tips
Stilton is commonly used for its strength and salinity, but milder blue cheeses work really well too!