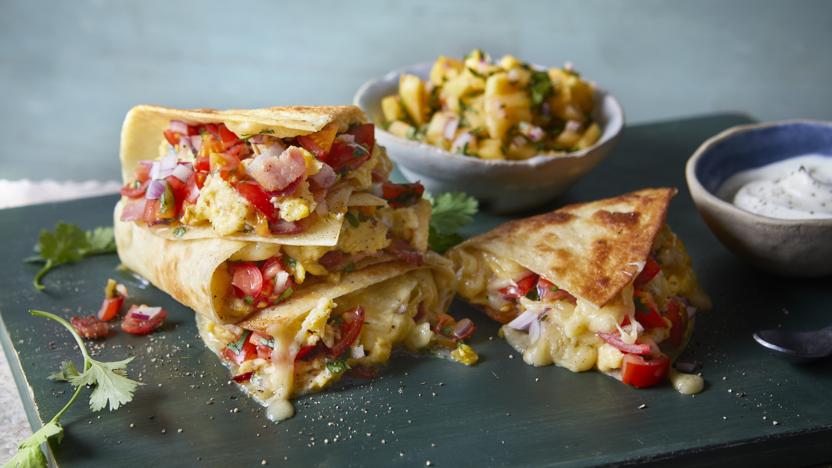 For a leisurely weekend brunch or a light meal any day of the week, these breakfast quesadillas are filled with bacon and scrambled eggs and served with colourful salsas, guacamole and refried beans.

Ingredients
For the tomato salsa
For the mango salsa
To serve
Method
First make the salsas. For the tomato salsa, put the tomatoes in a bowl. Mix in the onion and jalapeños. Add the honey, lime juice, cayenne pepper, salt and pepper and mix well. Add the coriander and set aside for 30 minutes. Make the mango salsa in the same way, in a separate bowl.

Preheat the oven to 180C/160C Fan/Gas 4. Lightly grease a large baking sheet.

Heat a frying pan over a high heat and add a knob of butter. Cook the bacon for a few minutes until crisp. Remove from the heat and leave to cool a little.

Whisk the eggs together with salt and pepper and a splash of milk. Melt a large knob of butter in a non-stick saucepan. Add the eggs and cook over a low heat, stirring until the eggs are softly scrambled. Remove from the heat.

To assemble, melt a little more butter. Lay the tortillas on a board and lightly brush with the melted butter. Place a quarter of the bacon on one half of each tortilla. Top with the scrambled egg, and a couple of tablespoons of tomato salsa. Sprinkle on some chopped red onion, grated cheese and a little chopped coriander; don't overfill.

Fold over the tortilla to make a semicircle shape, brush the top with more melted butter and sprinkle over a pinch of cayenne pepper. Cut each tortilla in half and carefully place on the baking sheet.

Bake for 10 minutes. Leave to cool slightly and serve with the mango salsa, soured cream, guacamole, refried beans and any remaining tomato salsa.
This recipe is from...
Recipes from this episode