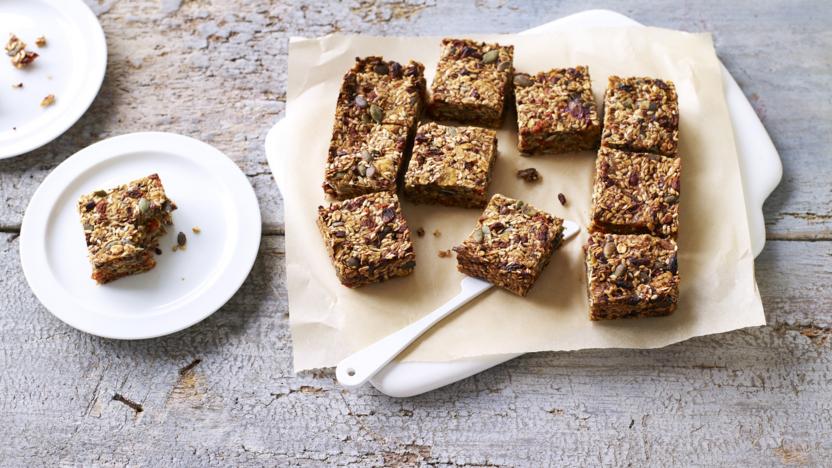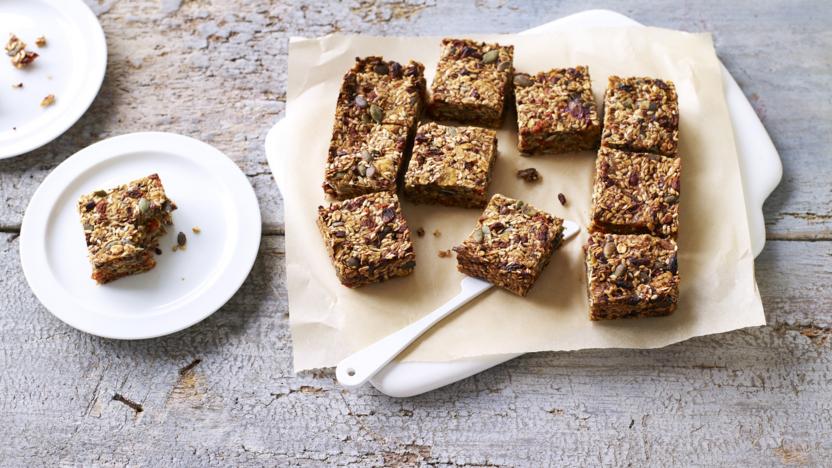 This is my new, improved breakfast bar recipe: gluten-free, dairy-free and enough seeds to make you start sprouting. I've used no sugar, but before you start thinking this is virtuously sugar-free (which I could claim it to be), remember that the sweetness that comes from the dates is, in essence, sugar, though certainly it's unprocessed and full of fibre at the same time.

Make these bars at the weekend, and you'll be set up for the week if you're someone who needs to grab-and-go in the morning.

Method
Preheat the oven to 180C/160C Fan/Gas 4, and line the bottom and sides of a 20cm/8in square tin with baking parchment.

Pit the dates and tear them with your fingers into a small saucepan, add the cinnamon, cover with 325ml/11fl oz cold water, bring to the boil and let bubble for 5 minutes. Turn off the heat, and beat with a fork until you have a rough purée.

Put all the remaining ingredients into a large bowl, add the date mixture and mix until everything is combined. I wear a pair of disposable vinyl gloves for this.

Squodge into your prepared tin and bake in the oven for 30 minutes, until firm and set, and golden on top and darker around the edges. Leave to cool in the tin before cutting into pieces.
Recipe Tips
You can, for example, use sunflower seeds in place of flaxseeds, or half and half rather than all flaxseeds, and you can also use puffed rice (gluten-free if needed) or buckwheat flakes in place of cornflakes. In theory, cornflakes (and oats) should be gluten-free, but if crucial, make sure it's stipulated on the packet.
If you can't get hold of medjool dates, then use 350g/12oz pitted dried dates and up the water to 400ml/14fl oz. And they'll take about 10, rather than 5, minutes to cook until they're soft enough to mash to a purée.
This recipe is from...
Recipes from this episode