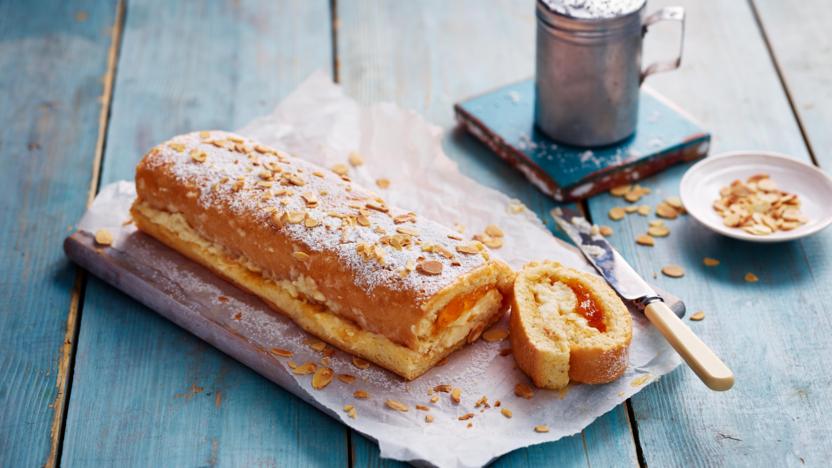 Gypsy's arm. This posh Swiss roll is made with ground almonds and a splash of liqueur and filled with delicious crème pat.


Ingredients
For the crème pâtissière
For the almond Swiss roll
To serve
Method
For the crème pâtissière, pour the milk into a saucepan and add the vanilla pod. Bring to the boil, then remove from the heat and leave to infuse until back to room temperature.

Put the egg yolks and sugar into a bowl and whisk until well combined and starting to turn pale. Whisk in the cornflour.

Reheat the milk, then transfer to a jug, discarding the vanilla pod. Rinse out the saucepan. Pour the milk into the egg and sugar mixture from a height, whisking constantly, then transfer back to the saucepan.

Stir on a low to medium heat until thickened. Transfer to a bowl and cover with cling film, making sure the cling film sits on top of the surface of the crème pâtissière to stop it from forming a skin. When it has cooled down, transfer to the fridge to chill.

Preheat the oven to 180C/Fan 160C/Gas 4. Line a 30x20cm/12x8in Swiss roll tin with baking parchment.

Sift the plain flour and baking powder into a bowl with the ground almonds. Add a pinch of salt.

Whisk the eggs and sugar together with an electric hand whisk or in a stand mixer until the mixture is pale with an aerated, mousse-like texture – it should also leave a ribbon trail. Add the almond extract.

Add the flour and almond mixture and fold in very gently but thoroughly with a metal spoon.

Pour the mixture into the prepared Swiss roll tin and spread with a palate knife to make sure it is even. Bake for around 10-12 minutes, or until lightly browned and springy to touch.

Remove from the oven and turn out onto a cooling rack. Peel off the baking parchment and leave to cool.

To assemble, transfer the sponge to a lightly moistened tea towel. Spread over the jam, then top with the crème pâtissière. Spread evenly with a palate knife, leaving a wide (at least 5cm/2in) border along the top (the filling will spill over otherwise) and a narrower one (2cm/¾in) on each side.

Carefully roll up from the bottom, pulling the roll up and over to try and stop the filling falling out, until you have a roll. Do not worry if it cracks a little.

Sprinkle with icing sugar and the toasted almonds. Serve.
This recipe is from...
Recipes from this episode