This fancy fish dish manages to be both super comforting and impressive with creamy salt cod brandade and crispy potato scraps served with a dressing made with mussels.



Ingredients
For the cod brandade
For the mussel dressing
For the vinaigrette
For the crispy potato skin scraps
Method
To make the brandade, place the cod, milk, bay leaf, tarragon sprig and peppercorns in a large saucepan. Poach the cod over a low heat until just cooked. Carefully lift out the cod from the liquid and allow to cool.

Separate the cod into flakes and put into a bowl. Stir together with the baked potato flesh, adding a splash of the cooking liquid if needed to loosen. Keep warm.

To make the mussel dressing, clean the mussels under cold running water and debeard the mussels. If any are opened, tap them lightly on a hard surface. If they don't close, discard them.

Heat the olive oil in a wide, heavy-based saucepan (with a lid). Add the shallot and garlic and cook until softened, but not browned. Pour the wine into the pan and boil for a minute to burn off the alcohol. Add the mussels to the pan, top with the lid and cook for about 3-4 minutes or until they are open, giving the pan a shake from time to time. Discard any that don't open. Remove the mussels from the heat and drain them, saving the cooking liquor. Pick the meat from the shells and set aside.

To make the vinaigrette, mix the saffron, oil and vinegar together with 1 tablespoon of the mussel liquor. Add the shallot, chives and the picked mussels.

To make the crispy potato skin scraps, heat the oil in a deep fat fryer to 180C. (CAUTION: hot oil can be dangerous. Do not leave unattended.) Carefully place the torn skins into the fryer and fry for 1–2 minutes. Remove and drain on a kitchen paper.

To serve, spoon the brandade into 2 bowls, dress with the mussel vinaigrette and scatter over the deep-fried potato skins.
This recipe is from...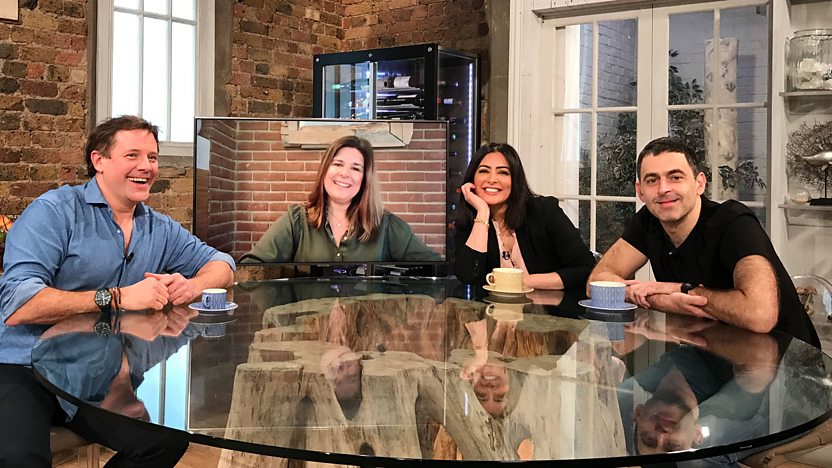 Saturday Kitchen
06/02/2021