Braised egg dumplings in chilli broth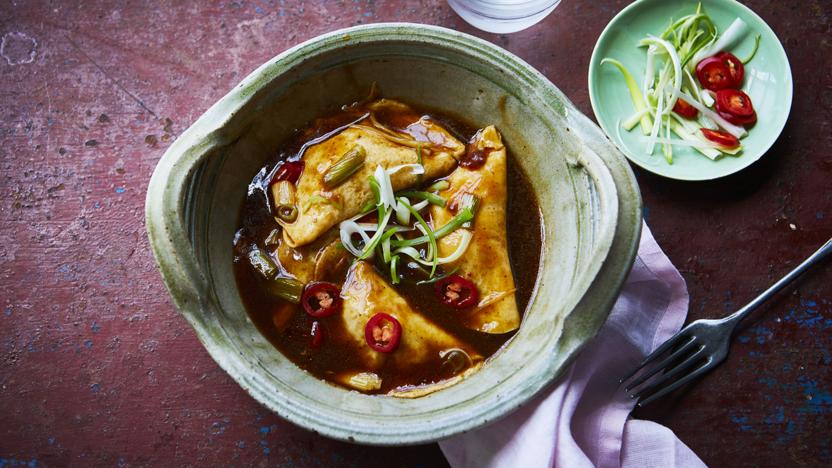 These egg dumplings are perfect for using up leftover veg and meat, tofu or seafood. Making them takes a little bit of practice, but it's worth mastering. Don't feel like you have to stick to the recipe for the filling, rather use it as a guide to add what you've got and show your friends you can cook something from nothing.


Ingredients
For the dumplings
For the filling
For the broth
To serve
Method
To make the dumplings, beat the eggs with the salt and sesame oil. Set aside.

To make the filling, mix all the ingredients together in a bowl and set aside.

To make the broth, combine the chilli paste, oyster sauce, light and dark soy sauces and stock in a seperate bowl and set aside.

To cook the dumplings, heat the vegetable oil in a frying pan over a medium heat. Pour 1–2 tablespoons of the beaten egg into the pan and try to keep it in one spot with a spatula to create a mini omelette. Reduce the heat to low so the egg doesn't cook too quickly. Spoon a teaspoon of the filling into the centre of the egg, then fold the egg over. Press the sides of the semicircle down so the egg seals around the filling. Remove to a plate and repeat until all the egg and filling has been used up. Set aside.

To finish the chilli broth, heat the vegetable oil in a saucepan, clay pot or small casserole dish over a medium heat. Fry the sliced ginger and the white parts of the spring onion until the ginger turns golden brown. Pour the chilli broth mixture into the pan and bring to the boil. Mix the cornflour with 2 teaspoons of water to make a paste, then add 3 teaspoons of it to the sauce. Stir in and boil for another minute.

Turn the heat down to a simmer and place the egg dumplings carefully into the sauce. Simmer for 8–10 minutes without moving the dumplings too much as they can be delicate. Garnish with the red chilli and green parts of the spring onion. Serve with freshly cooked jasmine rice.
Recipe Tips
When adding the egg to the pan, don't worry about keeping it in a perfect circle – it almost always forms a rough semicircle when you fold it over. If it doesn't, you can cut around the dumplings once cooked.