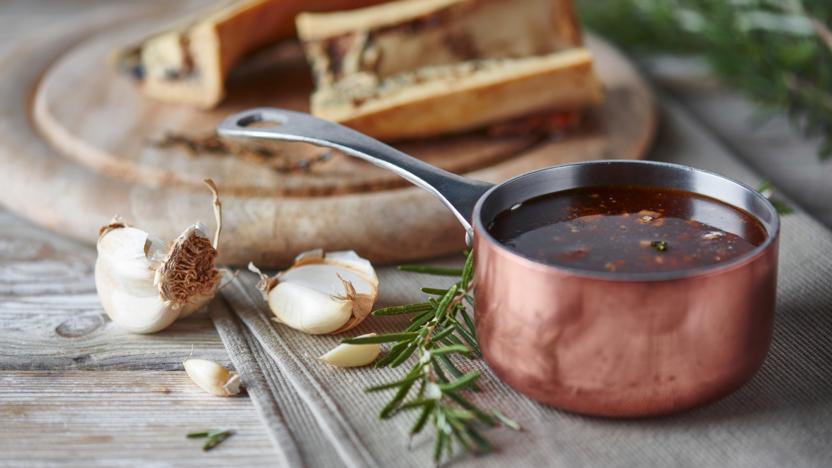 This is a classic sauce named after the Bordeaux region of France, which is famous for its amazing wine. The sauce is made with a dry Bordeaux red wine, bone marrow, garlic and shallots for a rich, savoury flavour.


Method
Heat the oil in a large saucepan over a medium-high heat. Add the shallots, garlic, rosemary, thyme, salt and peppercorns while stirring frequently. Cook for 5 minutes.

Add the wine to the pan and then turn up the heat. Reduce the volume of liquid by two-thirds.

In a separate saucepan on a medium heat, cook the bone marrow until the fat has melted. Lift out any remaining solids and chop them on a board until the pieces are no bigger than 5mm/¼in. Set these aside for later and add the beef stock to the liquid fat in the pan to warm through.

Once the wine has reduced, pour the warm stock and bone marrow mixture into the wine pan and bring to a rolling boil. Keep the sauce at this temperature and continue to cook until the volume of the liquid has reduced by half and the sauce has thickened.

Carefully strain the sauce through a sieve into a clean saucepan, discarding the cooked vegetables and herbs.

The finished sauce should coat the back of a spoon, so if it hasn't reached the right consistency just keep reducing the sauce in the pan before adding the chopped bone marrow and serving.