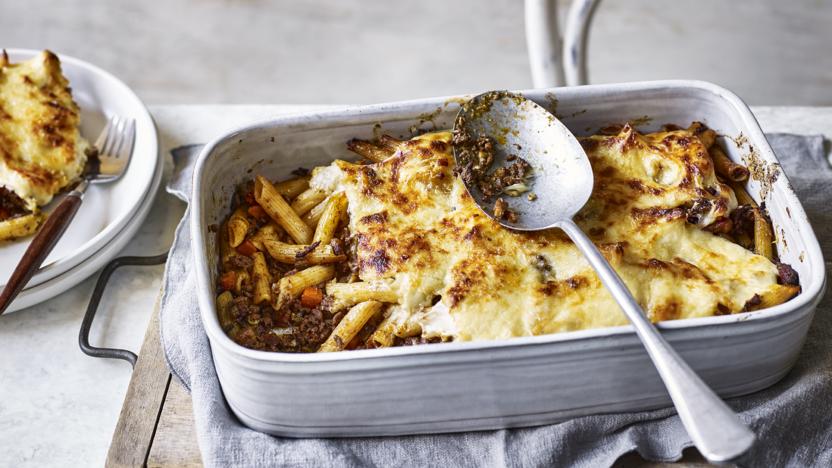 Ragù, or bolognese sauce, is easy to make but takes time to cook. It cooks by itself and you have only to keep an occasional eye on it to prevent it from burning. Make a big batch ahead and use it as part of relaxed pasta dishes, such as this bolognese pasta bake.
Ingredients
For the bolognese
For the cheese sauce
Method
Heat the butter and oil in a heavy-based saucepan. Throw in the pancetta and fry for 2–3 minutes, stirring very frequently. Add the onion to the pan and fry until soft and golden.

Add the celery and carrot and cook for 5 minutes, stirring frequently. Add the beef and cook, breaking up the meat with a fork or spoon, until browned all over.

Mix in the tomato purée and cook for 1 minute. Pour in the wine, add the bay leaf and boil for 2–3 minutes. Add the stock a little at a time, whenever there is no more liquid on the bottom of the pan. Season with the nutmeg and salt and pepper. Cook for 1 hour (or more if you can). Taste and adjust the seasoning before serving.

To make the cheese sauce, melt the butter over a very low heat in a heavy-bottomed saucepan. Add the flour and stir well. Cook, stirring constantly, until the mixture is just golden but not brown. Add the milk, a few tablespoons at a time, until it has been incorporated and the sauce is smooth. Season with salt and pepper. Slowly bring the sauce to the boil, stirring all the time, and simmer for 5 minutes. Remove from the heat and stir in the Gruyère.

Preheat the oven to 200C/180C Fan/Gas 6.

Cook the penne in salted water for 2 minutes less than the packet instructions, or until it is almost done. Drain well.

Put the penne in a large gratin dish. Pour over the ragu and mix well. Cover it with the cheese sauce and sprinkle over the Parmesan. Bake for 25 minutes, or until the top is nicely browned. Serve.
Recipe Tips
If the cheese sauce sauce has some lumps, blitz in a food processor for a few seconds to break them up.
You can prepare this bolognese pasta bake ahead and keep it in the fridge, but you will need to add an extra 10 minutes to the final baking.